WHY SHOULD YOU CHOOSE VDE-CERTIFIED CABLES?

Nowadays, products used in the electrical industry are required to meet strict standards to ensure safety when used in life or production. One of the most well-known standards for safety and quality today is VDE.
What is the VDE certification?
VDE (Verband der Elektrotechnik) is the largest European Union of Electrical, Electronics, and Information Technology Science and Technology, headquartered in Frankfurt, Germany. This association is responsible for testing and certifying that tools, components, and electrical equipment comply with international standard procedures. Therefore, VDE certification is widely popular in the Asian and European regions.
VDE's mission is to promote the transfer of technical knowledge, supporting the adoption of technology across a wide range of sectors and industries. At the same time, VDE also certifies the safety and quality of products and components through testing and certification marking.
In the evaluation of electrical cables, the VDE standard provides information on the construction and characteristics of the cable. Today, the wide range of cables used throughout Europe is subject to evaluation by engineers worldwide and requires high reliability under demanding conditions.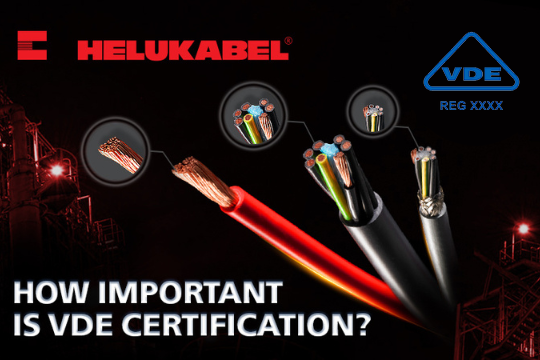 What are the VDE standards?
Through amendments, the complete set of regulations includes more than 3,500 valid DIN standards, which have been divided into eight groups of standards:
General principles and energy systems
The cables and power lines
Monitoring technology (measurement, control, and testing)
Electric machines, batteries, and accumulators
Electrical installation (regulations on installation materials and switchgear)
Safety of home appliances and work
News and information technology
Let's take a look at nine standards under the regulations and compliance of DIN-DVE as follows:
VDE 0100: Plan, construct and test high voltage systems with rated voltage up to 1kV in residential buildings as well as commercial and public facilities.
DIN 18015: Information on electrical systems in residential buildings, their minimum equipment, planning facilities as well as cable routing and arrangement of operating sources.
VDE 0100-610: Installation of high voltage systems with rated voltage up to 1kV during initial testing.
DIN EN 50110/VDE 0105-100: VDE regulations for the operation of high voltage systems.
DIN VDE 0104: Set up and operate an electrical test system.
DIN EN 61310-3/VDE 0113-103: Specification for electrical equipment of machining and processing machines with rated voltage up to 1 kV.
VDE 0141: VDE regulations for grounding.
VDE 0165-1: Installation of electrical systems in explosive areas.
VDE 0701-0702: Check after repairing and changing electrical equipment.
DIN EN 60900: Hand tool for use up to 1000V AC and 1500V DC.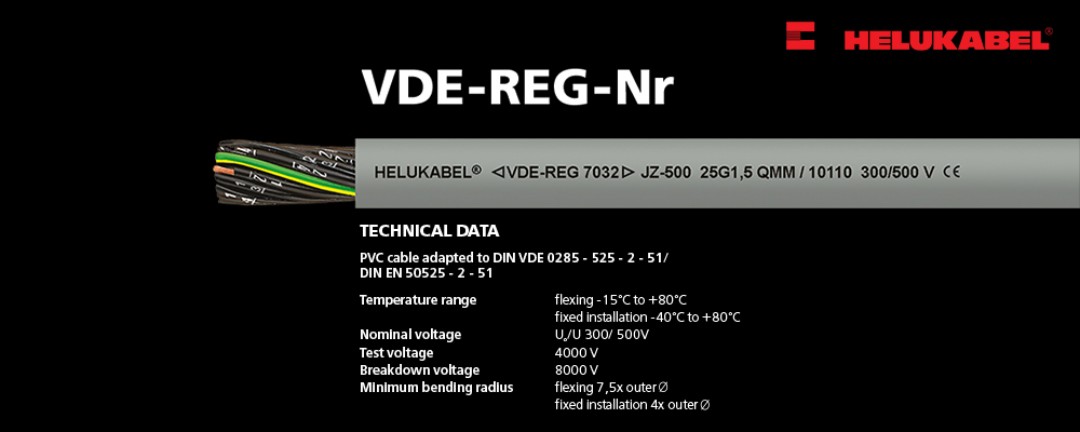 Why is VDE certification important?
The choice of equipment and tools related to electricity, such as power cables, is a crucial factor because it affects the quality and life of the machinery and the entire production system. Therefore, you should choose one that has passed VDE certification or similar certification to ensure quality.
In addition, VDE certification contributes to affirming the quality and safety of electrical cables because they are regularly monitored and tested by the VDE Association. In particular, a big difference between VDE certification compared to other certifications is that the system of production plants and final products must meet the inspection standards from the association to be certified. Therefore, VDE certification is not only a formality but also represents an independent testing institute that has approved the technical and quality standards of each HELUKABEL power cable product. Currently, most of our control cable models are VDE registered.
How to choose a VDE standard-approved power cable?
Before being launched to the market, control cables will be tested in independent laboratories, and VDE standards are used to evaluate the quality and ensure safety.
Although the VDE cable is tested and qualified, it only ensures a part of the power cable is safe. Therefore, ensuring safety depends on other factors such as:
The features and construction of VDE cables are compatible with business.
Check the cable before use
Read the specifications carefully and follow the manufacturer's recommendations
Use according to the instructions
Periodic maintenance and inspection
Thus, when choosing cables, the following factors should be paid attention to: power source, heat resistance, and fire resistance, including those with halogen-free properties to ensure safety for life.
In conclusion, cable products that meet VDE standards will meet common standards for quality and safety during use. If you are looking for a VDE-certified product, please contact HELUKABEL Vietnam for more detailed advice on choosing a VDE-certified cable.

For more information, please contact:
HELUKABEL® Vietnam
54, Street 1, Cityland, Ward 7, Go Vap District, Ho Chi Minh City 700000, Vietnam
Tel. +84 28 22536441 | info@helukabel.com.vn | www.helukabel.com.vn
SCHEDULE A MEETING WITH OUR ENGINEERS HERE!

Back