HELUKABEL® | CONTROL CABLE PVC SCREENED Y-CY-JB

HELUKABEL Vietnam's Y-CY-JB control cables meet VDE standards. With good shield ability and special characteristics, the product is chosen for use in industrial computer systems.
Information about Y-CY-JB control cable
Y-CY-JB is a line of cables with a shield, denoted as Y-CY-JB, with a transparent and aesthetically pleasing sheath. This cable is flexible and durable.
The Y-CY-JB control cable has a 300/500V voltage load and is especially resistant to oil and chemicals.
This cable is designed with a variety of core yarn counts from 1 to 100 cores with cross-sections from 2.5 mm2 to 185 mm2. The core fibers are tightly twisted together when manufactured, creating the flexibility of the cable and allowing easy and flexible bending.

Structure details of control cable Y-CY-JB
Figure 2 (Cap: Y-CY-JB control cable structure)
Bare copper conductor, fine wire acc. to
DIN VDE 0295 cl.5 / IEC 60228 cl.5
Core insulation of PVC compound type Z 7225
Core identification to JB/OB color code
GN-YE conductor, 3 cores and above in the outer layer
Cores stranded in layers with optimal lay length
Tinned copper braided screen, approx. 85% coverage
Sheath color: transparent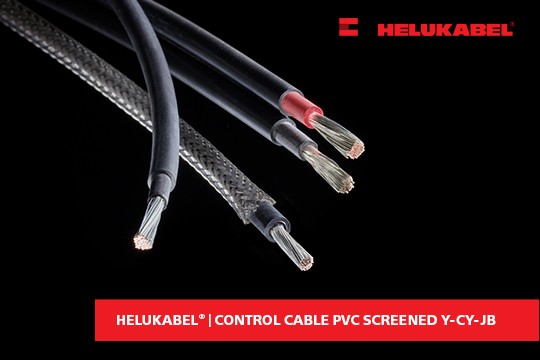 Application of Y-CY-JB control cable
Y-CY-JB cables are used as connection and control cables for machines in production lines, and industrial computer systems, as well as for electronic equipment. However, this cable is not suitable for outdoor use.
The outstanding features of Y-CY-JB cables that you may be interested in are as follows:
A metal shield with a high shielding rate of up to 85% ensures a high level of anti-interference.
The shield ensures the safe transmission of all signals against interference.
The inner PVC sheath of such cables increases mechanical stress (increases tensile strength).
The transparent PVC outer sheath helps users quickly check the integrity of the protective screen and detect timely replacement when there are signs of damage due to construction.
Transparency also helps to enhance the aesthetics of cables and structures.
In addition, these cables are suitable for use in flexible applications, and medium-mechanical stresses with a little degree of free movement.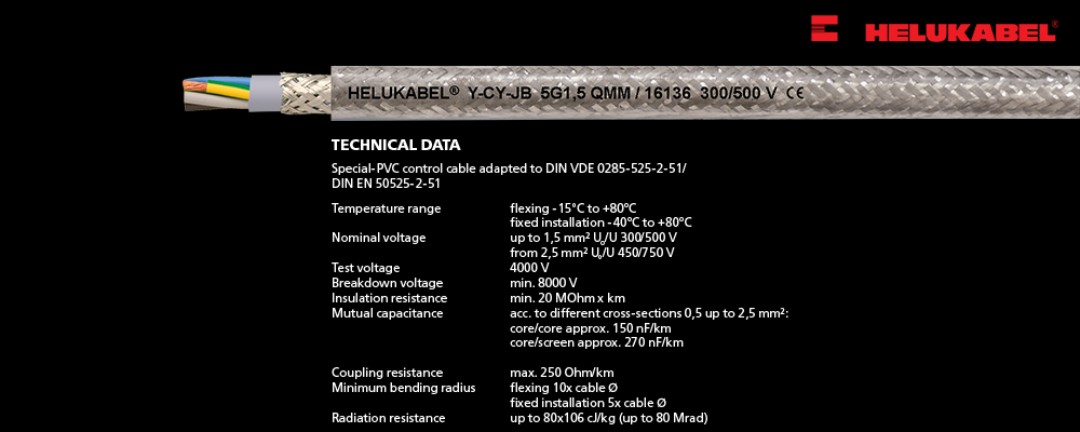 We are a German-based manufacturer of cables, wires, and accessories with 60 sites worldwide and over 40 years of experience. Our goal is to provide you with the optimal electrical connection solutions required for your projects and deliver an outstanding customer experience. For more detailed advice on the application of Y-CY-JB cable in your project or other solutions, contact our team of specialized engineers!
For more information, please contact:
HELUKABEL® Vietnam
54, Street 1, Cityland, Ward 7, Go Vap District, Ho Chi Minh City 700000, Vietnam
Tel. +84 28 22536441 | info@helukabel.com.vn | www.helukabel.com.vn
SCHEDULE A MEETING WITH OUR ENGINEERS HERE!

Back