STRUCTURE AND OUTSTANDING ADVANTAGES OF TOPSER PVC CONTROL CABLE
TOPSER PVC is a control cable that uses a Level 6 softcore with very good vibration absorption from large motor vibrations. This cable line is designed with an anti-interference mesh layer to help transmit information accurately and quickly, without signal interruption.
What is the structure of TOPSER PVC?
TOPSER PVC has a structure consisting of an insulating shell made of PP plastic and a conductive coil made of copper material with a degree of softness at level 6.
TOPSER PVC is equipped with a pair of signal wires that are coated with a tinned copper screen and accompanied by an interference wire to absorb wave sources that interfere with information. This enhances the resistance to interference from the power supply cord, ensuring information is transmitted quickly, accurately, and without interruption.
The power supply cord is separated from the control wire pair.
Tinned copper anti-jamming mesh wraps the power supply cord and control pair.
The white fabric jacket (drag-and-drop version) partially covers the shield tape and helps increase bearing capacity, suitable for applications with traction.
The outer shell of PUR avoids the impact of abrasion, destruction by hydrolysis, and microbial attack. Therefore, it meets all the strictest standards of many manufacturing and manufacturing enterprises.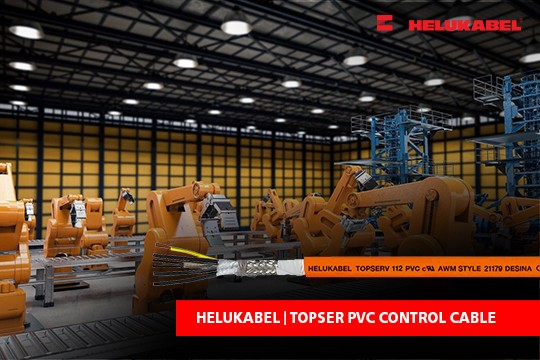 The characteristics and advantages of TOPSER PVC
TOPSER PVC is a line of power cables that integrate power supply and control wire into one cable.
Using a grade 6 soft copper core allows very good vibration absorption from the large vibrations of the motor. This ensures cable transmission is stable and information transmission is accurate.
It is equipped with multiple layers of anti-interference, ensuring the safety of signal transmission between wire pairs.
The outer layer of anti-interference mesh helps to increase electromagnetic compatibility, prolonging the life of the motor and
compact design, saving installation space as well as quick construction time.
Diverse construction materials of PVC, and PUR, along with anti-oil, chemical, microorganism, high abrasion resistance, and UV protection, are used for many different environments.
In which manufacturing sector is the product commonly used?
Thanks to its outstanding features and advantages, TOPSER PVC control cables are suitable for all fields of industrial production requiring automation or using equipment such as servo, and motors.
The TOPSER PVC control cable plays the role of supplying power to the servo and motor and transmitting control signals to control the running speed of the machine, the number of revolutions, and the performance of the servo and motor.
Specifications of TOPSER PVC
Control cable of special-PVC adapted to DIN VDE 0293, 0295
Temperature range: flexing -15°C to +80°C, fixed installation -40°C to +80°C
Nominal voltage: U0/U 600/1000 V
Breakdown voltage: 8000 V
Minimum bending radius: flexing 7.5x cable Ø, fixed installation 4x cable Ø.
TOPSER PVC will be the right choice for all areas of industrial production. In particular, in manufacturing industries that use servo and motor equipment, businesses should give priority to using TOPSER PVC control cables. For more information on signal cable products or to find the optimal solutions, contact our specialized engineers for advice and support.
For more information, please contact:
HELUKABEL® Vietnam
54, Street 1, Cityland, Ward 7, Go Vap District, Ho Chi Minh City 700000, Vietnam
Tel. +84 28 22536441 | info@helukabel.com.vn | www.helukabel.com.vn
SCHEDULE A MEETING WITH OUR ENGINEERS HERE!

Back