HOW AUTOMATION IS SHAPING THE FUTURE OF THE STEEL INDUSTRY

In recent years, the steel industry in Vietnam and around the world has faced many difficulties due to the general influence of the economy. However, when many steel mills in Europe are closing due to rising energy costs, this has brought many opportunities for steel enterprises in Vietnam to export to potential markets. To seize this opportunity, the main challenge for enterprises is how to ensure steel quality and increase productivity to meet export standards.
We, HELUKABEL Vietnam, had a conversation with Mr. Nguyen Duc Hai, Deputy Director of Tang Minh Phat Trading and Service Co., Ltd about this topic. Tang Minh Phat company provides equipment and automation solutions for industries. Mr. Duc Hai is an automation engineer with nearly 15 years of working experience in the automation sector, especially in the steel manufacturing industry.
*What attracted you to work in the automation sector for nearly 15 years?
In my opinion, automation forces people to always innovate and never stop learning. Automation technology is evolving and needs to be constantly updated. Therefore, when working in this field, we need to follow the development trend. I am a person who loves dynamism and continuous improvement, and because of this, I feel excited and attracted to the automation industry. I want to explore and learn new technologies to bring the best solutions to my customers.
*With working experience in the steel manufacturing industry, how do you evaluate the development potential of this industry in our country?
From the observed factors, I see great potential for the development of the steel industry in Vietnam and the government is making a lot of public investments. The process of urbanization in Vietnam is in the stage of rapid development. Moreover, many domestic and foreign enterprises are focusing on building factories and large offices in Vietnam. From these things, the steel industry plays a key role in construction for the public investment segment, the process of urbanization, and the construction of wharf systems, as well as factories.
In addition, in the export market, steel mills in Europe and in some countries are closing due to high energy costs. This situation is a great opportunity and potential for steel manufacturing enterprises in our country.
*What changes does the steel industry in Vietnam need to make in the production process to seize the opportunity to export to foreign countries?
The steel industry needs to perfect the production line and improve the quality of output products to ensure quality and meet the needs of European, American, and other choosy markets.
For instance, for the two main steelmaking processes, hot rolled and cold rolled steel. Hot rolled steel needs investment in a closed production line from ore to finished products such as ore processing, blast furnace steelmaking process, then smelting, casting, and hot rolling. As for the cold rolling line, they also need investment in lines from Europe such as rust removal lines, rolling lines, annealing, winding and then producing finished products that meet quality standards.
*Is automation the optimal solution to achieve both "productivity" and "quality" in steel production?
Automation helps the line operate continuously 24/24 at a much faster speed than manual production. Therefore, automation will help increase the factory's productivity to the best level. In addition, when automation is applied to the production plant, the working process and operating steps in the factory are pre-programmed, so the output product will ensure uniformity in quality, and avoid unwanted errors in the product.
*How long does it take to apply automation to a steel factory, and how will the process take place?
For the steel manufacturing industry, it takes a long time to apply automation to the factory and evaluate its effectiveness. The enterprise's vision will be about 5-7 years or more for planning conversion of the whole factory automation because businesses can only evaluate the changes before and after the automation application after this period.
In the first 1-2 years, we may see automation not as effective as expected but this is not entirely true. When you have a broader view of about 5-10 years, you will know how much smaller the wear and tear is compared to not applying automation in production.
The automation application process is not required to apply to the entire factory, manufacturing plants can prioritize the parts that are having problems and difficulties to apply first. Automation will solve the difficulties that manufacturing plants are facing to improve work efficiency, as well as product quality.
*What problems often occur in the process of applying automation to steel factories?
The application of automation or any technology will have some unexpected incidents, we must know how to control and minimize damage. Problems may be related to incorrect operation of the control unit. In addition, sudden power loss or problems affecting the system's power supply process also affect the entire line. Because when the power is suddenly cut off, the automation equipment will be prone to errors, causing the system to fail and lead to faulty finished products.
*Are high temperature-resistant control cables with silicone sheaths a priority in the steel industry?
The steel manufacturing industry has a lot of production lines and high-temperature areas. Steel is smelted from the ore under very high temperatures up to 1600°C, so this is a very harsh working environment for electric cables. Therefore, electrical cable products used in this environment must meet heat resistance of at least 180°C or higher in special locations.

I realize that HELUKABEL has great strength in the steel industry with their product lines of high-temperature-resistant electrical cables. This is also a great value that our company Tang Minh Phat always introduces to customers in the steel industry.
In addition to extremely high temperatures, some factory areas have a lot of dust, oil, and chemicals. So some other criteria that are required for power cables in steel mills are oil resistance, interference resistance, or corrosion resistance. With these criteria, together with the requirements of high-temperature resistance, HELUKABEL's power cable product lines are completely met, such as 180°C SiHF power cable with silicone sheath; HELUTHERM ® 400 power cable is halogen-free, withstands temperatures up to 400°C…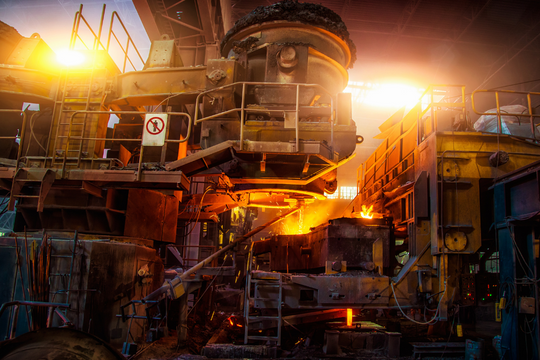 Electrical cable products used in this environment must meet heat resistance of at least 180°C or higher in special locations. (Source: Shutterstock)
* How will the choice of power cable line affect the efficiency of the automation application process?
The evaluation of the effectiveness of the process of applying automation to the entire steel production system is a long period of 5-7 years or more. Therefore, when advising customers to choose the right line of power cables, I always prioritize quality products.
For some low-quality power cables, maybe at present, the price is more competitive, but they can only be used for 1-2 years and will be damaged or broken. On the contrary, if you choose a higher-priced power cable with a usage time of up to 5-6 years, the initial cost will be much cheaper than that of the current low-quality product.
Moreover, if poor-quality cables are used and a problem occurs in the factory, production downtime for maintenance, remedial work, or cable replacement will greatly affect production costs and cause damage to businesses.
*In 2023, what advice would you give to steel producers who are intending to apply automation to steel factories?
Whether in any manufacturing industry, when you want to scale up, ensure quality, or increase productivity, automation is always an indispensable key. Automation is a long-term adoption process and takes time to see results. Therefore, businesses need to have a longer-term vision to choose the most suitable lines, as well as the corresponding quality products when applying automation. Finally, to know the effectiveness of adoption, businesses need to periodically measure before and after applied automation.
Thank you, Mr. Nguyen Duc Hai, Deputy Director of Tang Minh Phat Trading and Services Co., Ltd., for sharing with us, HELUKABEL Vietnam. We wish you a lot of health and success to bring optimal automation solutions to the steel industry and many other sectors.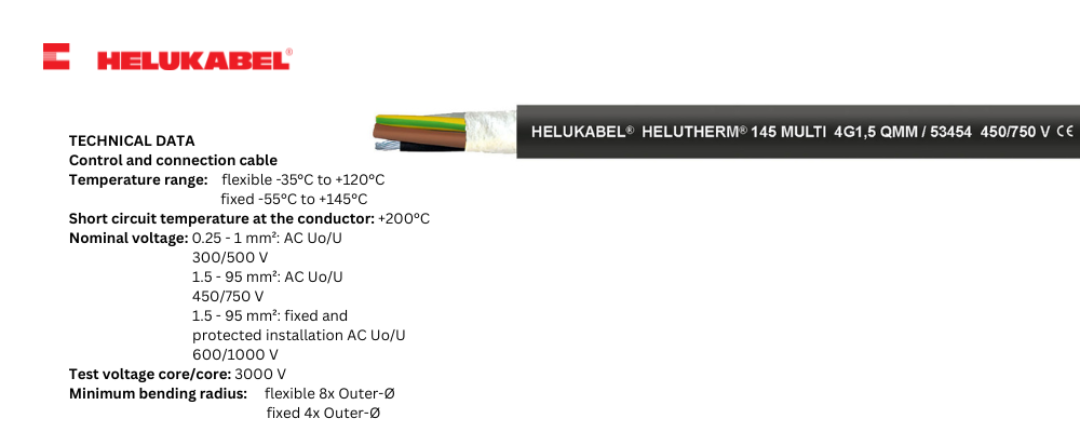 Back