HELUKABEL | APPLICATIONS OF MULTIFLEX 512®-PUR UL/CSA CABLES
Each control cable product has different technical requirements when put into application in the production plant. In particular, the MULTIFLEX 512®-PUR UL/CSA cable is a special product for drag chains, this cable line has durability and long life, applied in many fields.
Some key features of the MULTIFLEX 512®-PUR UL/CSA cable
MULTIFLEX 512®-PUR UL/CSA is a special line of control cables for drag chains, including the following features:
Special drag chain cables for high mechanical stress, adapted to DIN VDE 0285-525-2-21/ DIN EN 50525-2-21
Temperature range
flexing -30°C to +80°C
fixed installation -40°C to +80°C
Nominal voltage U0/U 300/500 V
Test voltage 3000 V
Insulation resistance min. 100 MOhm x km
Minimum bending radius
flexing 5x cable Ø
fixed installation 3x cable Ø
Alternating bending cycles
approx. 10 million
Radiation resistance
up to 50x106 cJ/kg (up to 50 Mrad)
UV resistant
Can be used outdoors
Cable structure
Bare copper, extra fine wire conductors, bunch stranded to DIN VDE 0295 cl.6, col. 4, BS 6360 cl.6, and IEC 60228 cl.6
Core insulation of special PP
Core identification black cores with continuous white numbering
GN-YE conductor, 3 cores and above in the outer layer
Cores stranded in layers with optimally selected lay-length
Special core wrapping over each layer (up to 4 mm² without core wrapping over the outer layer)
Outer sheath of special full-polyurethane TMPU, to DIN VDE 0207-363-10-2 / DIN EN 50363-10-2
Colour grey (RAL 7001) outer surface mat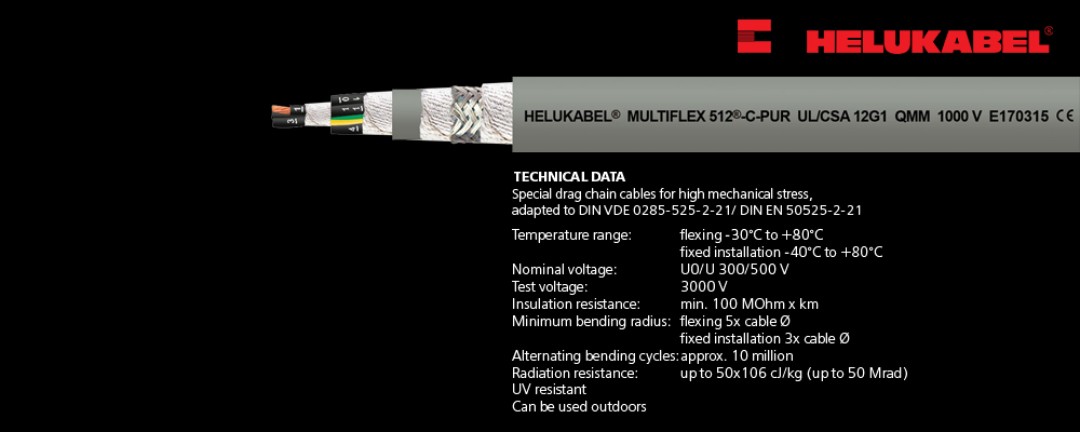 Properties
Guaranteed permanent application in multi-shift operation under extremely high bending stress
High resistance to mechanical strain
High property of alternating bending strength
Long life durabilities through low friction resistance by using the PP-insulation
High tensile strength-, abrasion- and impact resistance at low temperature
Resistant to weather, ozone, and UV radiation, solvents, acids, alkalis, hydraulic liquidity, and hydrolysis
The materials used in manufacture are cadmium-free and contain no silicone and are free from substances harmful to the wetting properties of lacquers
Application
MULTIFLEX 512®-PUR UL/CSA control cables are applicated for drag chains or flexible applications in machines, tools, and robots in manufacturing plants. At HELUKABEL, we develop these cables according to the latest technology. In addition, the MULTIFLEX 512®-PUR UL/CSA control cables have high flexibility, which ensures a longer service life. In addition, this cable adopts PP insulation and PUR outer sheath, PUR material has low adhesion.
For applications that go beyond standard solutions (composting appliances or high-shelf conveyors with extremely high processing speeds etc.), we recommended that you use the developed requirements table special for energy conduction systems. The product complies with the low voltage directive of EC 2006/95/EC.
We, HELUKABEL appeared in the Vietnam market in 2016. Here, sustainable development is always a long-term orientation, and to achieve that goal, production quality issues and minimizing adverse impacts on the living environment are always a top priority. In addition, the integrated management system for quality and environment is applied by us, the HELUKABEL group based on DIN EN ISO 9001:2008 and DIN EN ISO 14001:2009 standards. If you need advice on electrical connection technology solutions, please contact us for advice and support from specialized engineers.
For more information, please contact:
HELUKABEL® Vietnam
54, Street 1, Cityland, Ward 7, Go Vap District, Ho Chi Minh City 700000, Vietnam
Tel. +84 28 22536441 | info@helukabel.com.vn | www.helukabel.com.vn
SCHEDULE A MEETING WITH OUR ENGINEERS HERE!
Back