HELUKABEL | PAAR-TRONIC-CY CABLES, EMC-preferred type, Cu-screened

PAAR-TRONIC-CY signal cable series with PVC material features flame retardant and fire-resistant according to DIN VDE 0482-332-1-2, DIN EN 60332-1-2, and IEC 60332-1 standard. The product is applied flexibly in many fields with a shield of tin-plated copper mesh with a coverage ratio of approximately 85%.
Cable structure
Bare copper conductor, from 0,5 mm² to DIN VDE 0295 cl.5, fine-wire, BS 6360 cl.5, IEC 60228 cl.5
Core insulation of special PVC compound type TI2 to DIN VDE 0207-363-3 / DIN EN 50363-3
Core identification (pair) to DIN 47100
Cores stranded in pairs with optimal lay-length
Pairs stranded in layers with optimal lay-length
Tinned copper braided screen, approx. 85% coverage
Outer sheath of special PVC compound type TM2 to DIN VDE 0207-363-4-1/DIN EN 50363-4-1
Sheath colour grey (RAL 7032) also available in other colours on request
Properties
Extensively oil resistant, oil-/ chemical resistance - see table technical information
The materials used in manufacture are cadmium-free and contain no silicone and are free from substances harmful to the wetting properties of lacquers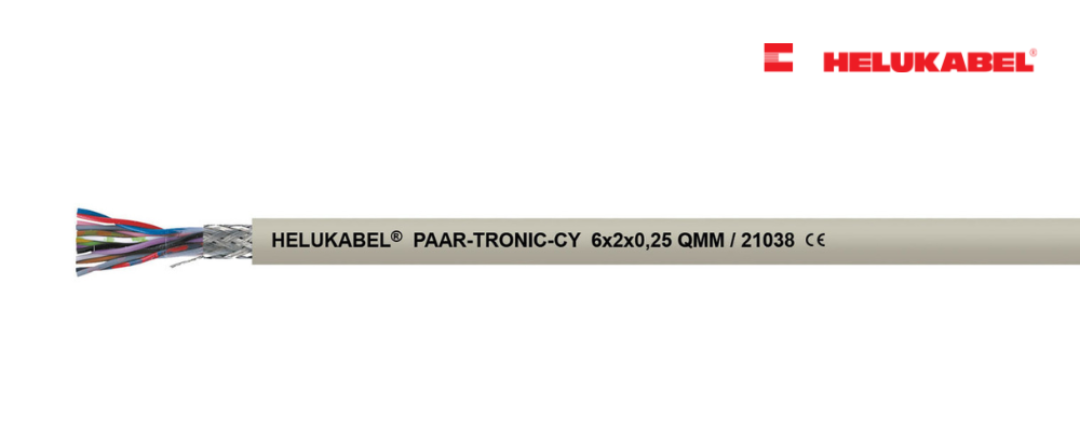 Technical data
Special PVC data cables for electronic control adapted to DIN VDE 0812 and 0814
Temperature range
fixed installation -30°C to +80°C
Operating peak voltage 350 V (not for heavy current installation purposes)
Test voltage
Breakdown voltage min. 2400 V
Insulation resistance min. 20 MOhm x km
Plant capacity (approx.-value) at 800 Hz
core/core 0,14 mm² = 120 pF/m
core/core 0,25 mm² = 150 pF/m
core/screen 0,14 mm² = 240 pF/m
core/screen 0,25 mm² = 270 pF/m
Inductance approx. 0,65 mH/km
Impedance approx. 78 Ohm
K1-coupling approx. 300 pF/100 m
Coupling resistance max. 250 Ohm/km
Minimum bending radius
fixed installation 5x cable Ø
Radiation resistance up to 80x106 cJ/kg (up to 80 Mrad)
Application
These data control cables are used for flexible use with free movement without tensile stress or forced movements in dry, moist, and wet rooms but are not suitable for open air. PAAR-TRONIC-CY is well suited for use in areas subject to signal interference. The high level of screening reduces substantially the effects of electrical disturbances from parallel running wiring etc. The copper screening is also often used as an "earth". The twisted pairs conform to favorable crosstalk attenuation values.
EMC = Electromagnetic compatibility
To optimize the EMC features we recommend a large round contact of the copper braiding on both ends.
= The product is conformed with the EC Low-Voltage Directive 2006/95/EC.
At HELUKABEL, the products manufactured have undergone many stages of strict inspection and testing to ensure the stability and uniformity of product quality. Therefore, the products that reach customers are the best-finished products, to ensure safety during use and performance of the entire factory.
If you are looking for electrical connection solutions and need specific support and advice on wire characteristics to choose the right one, please contact our engineers for advice.
For more information, please contact:
HELUKABEL® Vietnam
54, Street 1, Cityland, Ward 7, Go Vap District, Ho Chi Minh City 700000, Vietnam
Tel. +84 28 22536441 | info@helukabel.com.vn | www.helukabel.com.vn
SCHEDULE A MEETING WITH OUR ENGINEERS HERE!
Back