HELUKABEL | TOPGEBER 511 PVC CABLES

TOPGEBER 511 PVC signal cable is widely used in industrial automation and other sectors. The signal cable ensures instantaneous signal transmission from the machine system to the control center.
Technical data
Special PVC feedback cable acc. to UL AWM style 20233 and CSA
Temperature range
fixed installation -20°C to +80°C
Nominal voltage
acc. to Siemens 30 V
acc. to Bosch Rexroth and Lenze 300 V
A.c. test voltage, 50 Hz
Minimum bending radius
fixed installation 6x cable Ø
Cable structure
Copper-conductor bare or tinned to DIN VDE 0295 cl.6, extra fine-wire, IEC 60228 cl.6
Core insulation of special polypropylene
Overall screening of tinned copper wire braid with tinned drain wire, coverage approx. 85%
Sheath colour green (RAL 6018) acc. to DESINA® or orange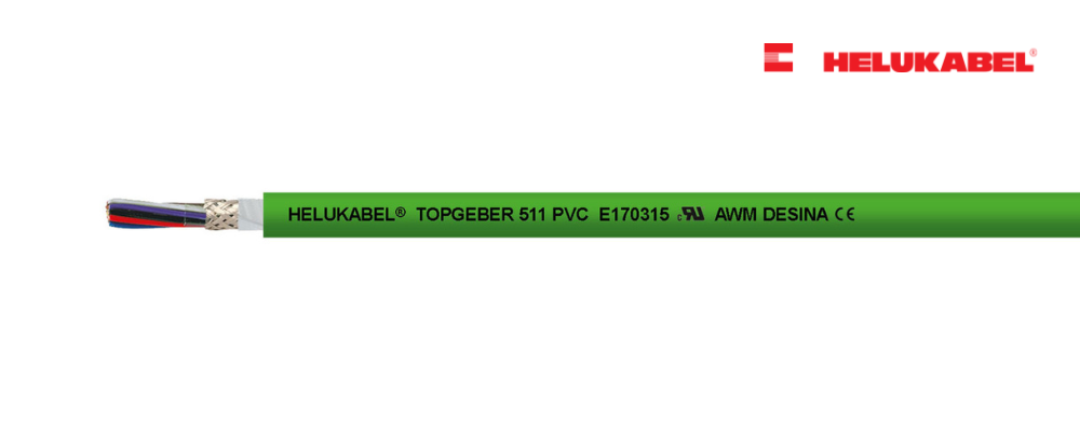 Properties
Outer sheath of PVC, oil-resistant
Optimum compliance with requirements for electromagnetic compatibility (EMC) by approx. 85% coverage from the braided screen
These cables are produced with high-quality specifications and conform to the DESINA®-standard
The materials used in manufacture are cadmium-free and contain no silicone and are free from substances harmful to the wetting properties of lacquers
Tests
PVC sheath flame retardant acc. to DIN EN 60332-1-1 bis -1-3 (VDE 0482-332-1-1 bis -1-3).
Application
Low-cost alternative to Motorcables with PUR Sheath for fixed installation or occasional moving applications. These low-capacitance incremental encoder cables or position feedback cables transmit the control pulses for positioning and operating characteristics of servo motors. These cables are used as connecting cables for tachos, brakes, and pulse generators in industrial equipment, machine tools, control, and automation equipment.
EMC = Electromagnetic compatibility
To optimize the EMC features we recommend a large round contact of the copper braiding on both ends.
= The product is conformed with the EC Low-Voltage Directive 2006/95/EC.
HELUKABEL is a long-standing cable manufacturing brand established in 1978, we have been present in 37 countries with 33,000 products. The products have gone through many stages of quality inspection and achieved many international certifications such as UL, SEV, SEMKO, SGS, OVE, NEMKO, CSA, etc.
If you have any technical questions about your project or are looking for an electrical connection solution, please contact our engineers for advice.
For more information, please contact:
HELUKABEL® Vietnam
54, Street 1, Cityland, Ward 7, Go Vap District, Ho Chi Minh City 700000, Vietnam
Tel. +84 28 22536441 | info@helukabel.com.vn | www.helukabel.com.vn
SCHEDULE A MEETING WITH OUR ENGINEERS HERE!
Back