Fresh Wind From the Eifel Mountains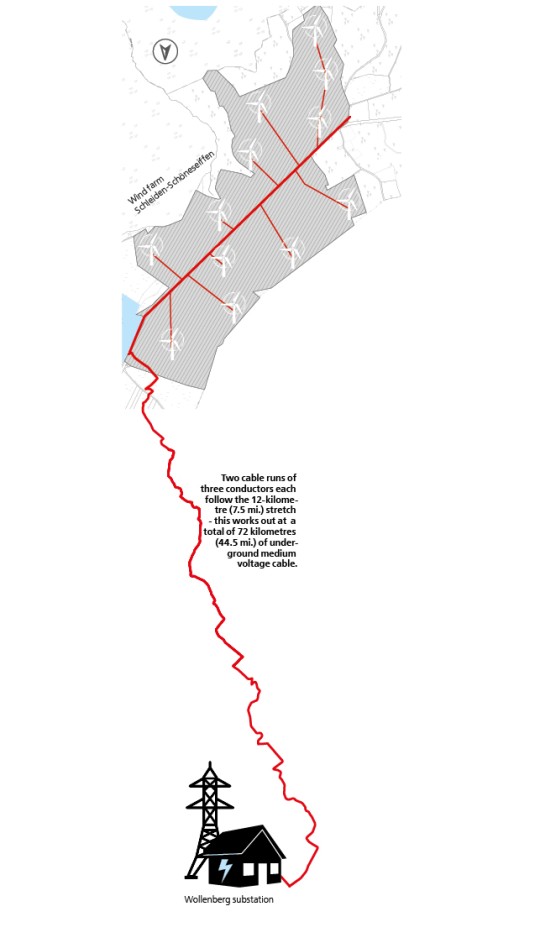 A total of 12 of the altogether 18 wind turbines in the Schleiden-Schöneseiffen wind farm are being gradually dismantled and replaced by 13 modern and more powerful systems. The wind farm in the North Rhine-Westphalian town of Schleiden, close to the Belgian border, feeds the energy it produces into the public electricity grid. However, the existing cable lines to the Wollenberg substation are unable to cope with the increased energy flow. The previous turbines generated approximately 18 MW of power while the new ones will produce as much as 39 MW. To ensure that the electrical energy can be transmitted at low loss to the substation and from there to local households, the owners of the plant – Bochum company GLS-Windpark Schleiden GmbH – has engaged Energie Nordeifel GmbH to plan a new cable run and lay durable underground cables. Georg Gnädig, planner and project manager in charge of grid facilities at Energie Nordeifel explains: "We bundle the cables and lay two cable systems parallel with each other, each consisting of three conductors. We require a total length of 72 kilometres, supplied to fit each respective section of the cable run."
New Cable Run
The 12-kilometre (7.5 mi) stretch initially proved a challenge for the professionals at Energie Nordeifel. "It is not just a matter of drawing the cables through ditches alongside dirt tracks but they also have to run underneath a national railway line as well as following several water features, not to mention several federal highways and country roads," says Gnädig. This requires significant skill and know-how and places considerable demands on the underground cables themselves. The medium-voltage underground cable type NA2XS(F)2Y from HELUKABEL has a sheath thickness of two and a half millimetres, and is thus able to withstand the conditions underground. The insulation of the individual conductors is made of cross-linked polyethylene (XlPE), which makes the cable robust and long-lasting, and enables it to with-stand operating temperatures of up to 90 degrees celsius without problem. So from the end of April, electrical energy from Windpark Schleiden will be carried to the substation in Wollenberg through medium-voltage underground cable made by HELUKABEL.
Repowering - New for Old
The bigger the better – and more effective. With a hub height of 135 metres (443 ft.) and a rotor diameter of 101 metres (331 ft.), the new turbines will be able to generate around 90 megawatt hours per year, over two-and-a-half times more than it did before.
This corresponds with the power needed to supply about 3000 households.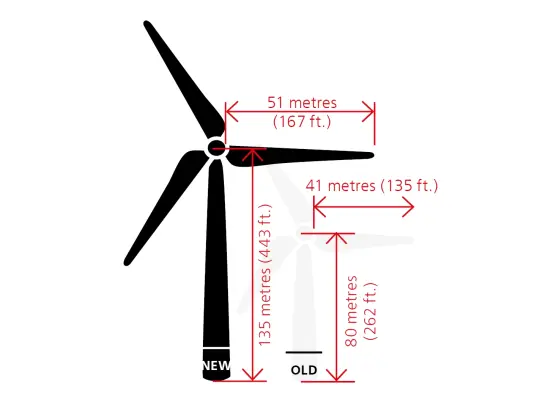 Back