Carbon Neutral in Colombia Using Solar Power
Columbian pharmaceutical services company Audifarma wishes to set an example by becoming the first carbon neutral company in its region. To accomplish this goal, it has installed a state-of-the-art photovoltaic plant. Below are the key facts about the project.

What is the project all about?
Audifarma, one of Colombia's largest pharmaceutical services companies, recently installed a 60 kW photovoltaic plant at its headquarters in Pereira, Colombia. The system covers 16 per cent of the building's energy needs. Completing this project has brought Audifarma one step closer to its ambitious environmental goal of becoming the first carbon neutral company in its region and market.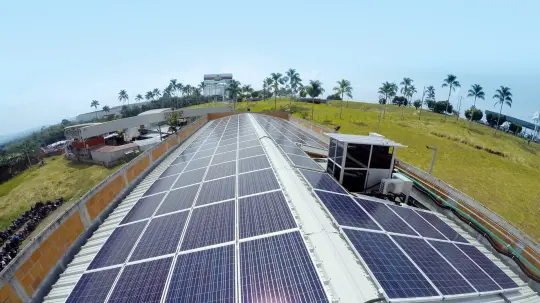 (© EnerSolax)
What role does HELUKABEL play?
EnerSolax, a local expert in solar energy, carried out the project, from initial planning to installation. The company's technology team used cables, wires and accessories from HELUKABEL for the project. However, this is just a small part of a larger collaboration between the two companies. EnerSolax will use HELUKABEL products at all plants that it designs and installs in the future. For the Audifarma project, the following HELUKABEL products were used: SOLARFLEX-X photovoltaic cables, HELUTOP HT cable glands, HELUcond PA6 cable protection tubes, KF tubular cable lugs, T-WS cable ties as well as pliers.
What is the plant's capacity?
The photovoltaic plant generates 95,000 kW hours of electricity each year, which will reduce CO2 emissions by around 750 tonnes over the course of its service life. In addition to transmitting power, the cables and wires perform the important task of transmitting data that sensors collect on solar radiation, ambient and module temperature, and wind speed.
Why is this data collected?
First, to monitor how well the plant is functioning. Second, EnerSolax uses this data to develop future photovoltaic plants in this region. The company sees huge potential in this project. Colombia, and Pereira especially, is an area where solar radiation is among the highest in the world. However, energy in this region is still supplied primarily by gas and water power plants. EnerSolax is working on changing this energy mix.
Back