HELUKABEL JZ-600-Y-CY | APPLICATION IN MULTIPLE FIELDS

Before putting any product into a system, especially control cables, we should know the basic information such as characteristics, applicability, structure, or other information number of each cable line so that the operation will also become much more convenient.
The general characteristics of the JZ-600-Y-CY cable
At HELUKABEL, the JZ-600-Y-CY control cable has shielding tape with 1 yellow-green grounded wire. It is different from the previous JZ-600 copper cable line, which does not include shielding tape. The wire is designed with a variety of conductors from 1 to 25 cores with cross-sections from 0.5 mm2 to 185 mm2.
It is resistant to oil vapors, chemical vapors, in addition to UV rays, so it can be used outdoors. Besides, the materials used in the production process are cadmium-free, silicone-free, and free of harmful substances.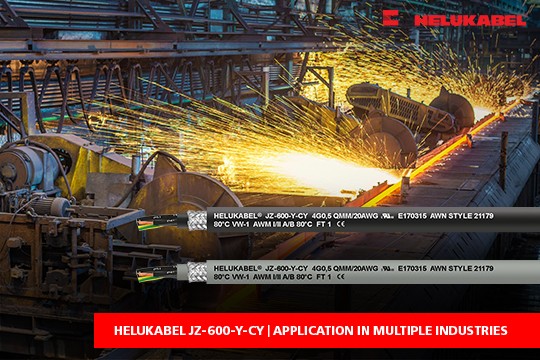 Environmental conditions
Control cables and connections in machine tools, conveyors, and production lines, for installations in mills, air conditioners, steel mills, and rolling mills. Suitable installation for flexible use for medium mechanical stress with free movement without tensile stress or forced movements in dry or humid room conditions as well as the external environment (with outer sheath) black PVC, especially resistant to UV radiation).
The conductors, when manufactured, are twisted together with a small twist to create the flexibility of the cable. This allows the cable to bend at a small angle, making it easy to work in high, narrow locations and in cable trays. However, it is not suitable to be buried directly in the ground (with a diameter of less than 20 mm) or as an underwater cable.
In addition, shield tape ensures a high degree of screening to optimize EMC (electromagnetic compatibility) features. It is recommended that you contact a large circle of copper braid at both ends. The product complies with the Low Voltage Directive 2006/95/EC.
The structure of the control cable JZ-600-Y-CY
Copper conductor according to DIN VDE 0295 cl.5, fine wire, BS 6360 cl.5, IEC 60228 cl.5
TI2 type special PVC compound magnetic insulation enclosure according to DIN VDE 0207-363-3/DIN EN 50363-3
Cores identified according to DIN VDE 0293, consecutively numbered black cores in white
With GN-YE ground wire (from 03 cores or more)
Cores stranded in layers with optimal lay length
Tinned copper braided screen, approx 85% coverage
Outer sheath made of special PVC type TM2 according to DIN VDE 0207-363-4-1/ DIN EN 50363-4-1
Sheath color: black (RAL 9005)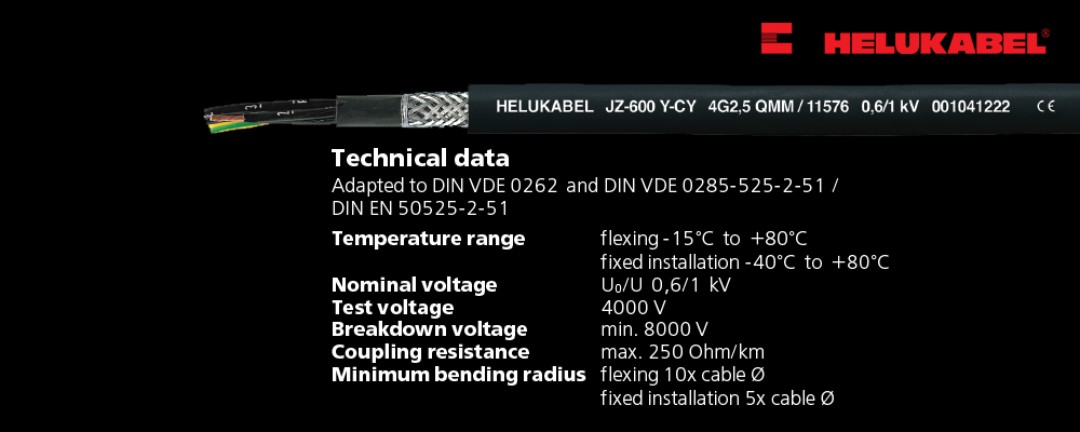 Technical data
Adapted to DIN VDE 0262 and DIN VDE 0285-525-2-51/ DIN EN 50525-2-51
Temperature range

flexing -15°C to +80°C
fixed installation -40°C to +80°C
Nominal voltage
U0/U 0,6/1 kV
Test voltage
4000V
Breakdown voltage
min. 8000 V
Insulation resistance
min. 20 MOhm x km
Coupling resistance
max. 250 Ohm/km
Minimum bending radius
flexing 10x cable Ø
fixed installation 5x cable Ø
Radiation resistance
up to 80x106 cJ/kg (up to 80 Mrad)
Through nearly 45 years of developing wire, cable, and accessory technology, we are present in 39 countries and 63 locations. Besides, strenuous efforts are made by our team of more than 2,200 employees, along with the orientation of constantly investing and innovating technology in parallel with the development of modern society.

For more information, please contact:
HELUKABEL® Vietnam
54, Street 1, Cityland, Ward 7, Go Vap District, Ho Chi Minh City 700000, Vietnam
Tel. +84 28 22536441 | info@helukabel.com.vn | www.helukabel.com.vn
SCHEDULE A MEETING WITH OUR ENGINEERS HERE!

Back