AUTOMATION IN ELECTRONIC COMPONENT MANUFACTURING

In Vietnam, the electronic component manufacturing industry plays an important role in driving the growth of the electronics industry (EI) thanks to the supply of parts and components. In 2021, this sector faced challenges because the supply chain was affected by many objective factors. To overcome the challenges, many businesses have chosen to apply automation to electronic component factories to increase productivity and ensure product quality. To know more about this situation, we, HELUKABEL Vietnam had a conversation with Mr. Trinh Duy Tho, Sales Manager of Rotac Vina Co., Ltd. - A company specializing in the production of electronic components in Bac Ninh city.
In 2015, Rotac Vina Co., Ltd was established in Vietnam with the desire to participate in the industry of manufacturing electrical connectors (slipring) used in PTZ cameras (security cameras capable of controlling direction and zooming images) and machines globally, contributing to the improvement of digital technology solutions. Currently, the company is focusing on researching and manufacturing Slipring (rotating electrical connectors) applied in electronic and industrial equipment (industrial machinery, robotics, medical equipment, packaging equipment, etc).
Mr. Trinh Duy Tho, Trading Manager of Rotac Vina Co., Ltd., and is responsible for managing the company's supply chain. Up to now, he has had seven years of working in the electronic component manufacturing industry.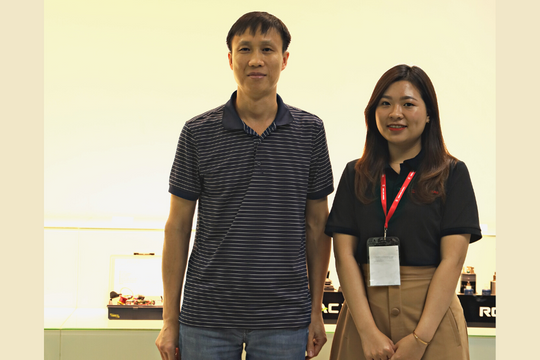 Mr. Trinh Duy Tho, Trading Manager of Rotac Vina Co., Ltd., and Ms. Hoang Ha Thu Hang, Sales Engineer.
*After nearly 7 years of working in the manufacturing electronic component sector, how do you think this industry in Vietnam is developing before and after the Covid-19 epidemic?
The electronic component manufacturing industry globally and in Vietnam develops smoothly and with great potential, playing an important role in the economy of each country. However, at the end of 2019, when the epidemic broke out, problems such as congested containers, lack of components in factories, broken supply chains, etc. The supply of components was interrupted, affecting the process production, and causing this industry to slow down and face many challenges.
For example, before, components only needed 3-4 months to be imported to Vietnam, but at the time of the pandemic, it took more than 1 year to receive the goods, even some products took about 50 to 60 weeks to import. Meanwhile, customers always require to receive the right product in the shortest time. This requirement is also a big challenge for businesses, requiring businesses to follow the market closely and have predictable strategies to import timely and meet customers' needs.
Currently, these challenges have reduced much but still needs time for the market to stabilize and recover.
*When faced with the above challenges, what solutions did you have to overcome and limit losses?
To overcome the problem of time in the import and export of electronic components, leaders should follow the market closely and forecast the demand of customers in advance to take timely actions.
Specifically, you can base on the demand of customers in previous years and new trends in the future, thereby analyzing, evaluating, and making appropriate strategies. Thanks to this analysis, you will know which components and products need to be imported first to catch up with market trends and meet consumer needs on time.
At the same time, businesses will also prioritize working directly with official production units to avoid time loss and ensure product quality. In addition, inventory issues also need to be taken care of and effectively remedied to avoid causing long-term damage.
*Rotac Vina has provided many electronic components to serve different industries. In particular, slipring is the main product of Rotac Vina company. So what role do these devices play, and in what specific areas are they usually applied?
Previously, circuit breakers that protect electrical circuits, used for connection and installation in electrical circuits, were designated 8536 according to HS code*. When translating the product name following the HS code, it will be very long but we can call it to be abbreviated as Slipring. Slipring is an electrical connector consisting of 2 parts, a fixed part and a movable part (can rotate 360 degrees), which is applied to many fields such as surveillance cameras, wind generators, excavators, cranes, etc.
For example, with PTZ camera equipment that requires flexible rotation to observe many angles, the slipring will help transmit the signal from the fixed end to the rotating end - the two ends of the slipring - and ensure that the cables are not twisted.
*What is your secret to maintaining the quality of products from the first day of its establishment until now?
At Rotac Vina, the closed production process is managed strictly from the input to the output of the product. We only import the outer parts of the product, however, the key stages will be produced by Rotac Vina. For instance, in the V-shaped rings of Slipring, the contact pins are all made by professional employees.
In addition, the machines, equipment, and products used in the factory are imported from long-standing famous brands to ensure the quality of output products.
*In the manufacturing electronic components process, what role does automation play?
Although some stages in the production process require human meticulousness, it is undeniable that automation contributes to increased productivity and better response to customer needs. Some special orders have requirements on the twist and quantity of wire for slipring products, human will control the machine to perform precisely, helping the product to meet the required quality and aesthetic standards.
Besides, in the testing machines, the application of automation is also prioritized to control the quality of the product exactly.
*To ensure an effective automation application, what criteria do you usually pay attention to?
In addition to focusing on equipment and machinery, the system of electrical and control cables also needs to be given top attention. Because this is a product that contributes to ensuring stable signal transmission, smooth operation for the whole system, and good quality output products.
When choosing electrical cable products for automated machinery systems, I will give preference to cooperating with genuine, and long-standing brands. Furthermore, sheath material and cable specifications are also essential factors in assessing plant suitability. We have used HELUKABEL control cables and accessories, and we are satisfied with the products and services.
For instance, we use the gray JB-500 control cables, which have a compound PVC sheath, resistant to oil and chemical environments, have good radiation resistance, meeting customer and market requirements EU on RoHS, REACH standards. This cable line is a perfect match with our products, creating good movement but still ensuring accurate and stable signal transmission, without interruption and affecting the product life.
The products of Rotac Vina combine with our JB-500 control cables. JB-500 control cables, which have a compound PVC sheath, resistant to oil and chemical environments, have good radiation resistance, meeting customer and market requirements EU on RoHS, REACH standards.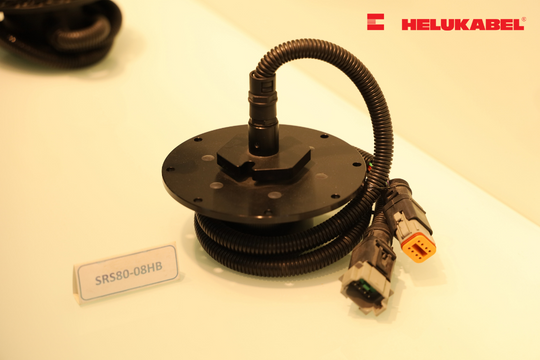 Products of Rotac Vina.
*In your opinion, how will the market for electronic components in 2023 change? And what do businesses need to prepare for this change?
I predicted in 2023, the world's market economy will have many changes, and the electronic component manufacturing industry will also face new challenges. However, we can believe in a future full of potential because today, people tend to use many advanced electronic devices, such as modern cameras with 360-degree flexible movement functions to move around and serve the demand of human life. These consumer trends will give us and others opportunities to grow in the new year.
And 2023 is also the year that businesses should consider converting and applying automation to the production process to achieve the expected efficiency.
*We would like to express our heartfelt thanks to Mr. Trinh Duy Tho and Rotac Vina Company for his valuable sharing. We wish him and his company more and more successful development in the future.
(*) HS Code or HS code is a classification code of goods that is standardized according to the provisions of the Goods Classification System issued by the World Customs Organization (WCO).
Back