3 things to consider when choosing cables for Control Cabinet
The length, cross-section, or diameter and material of cables are 3 essential factors you need to consider when choosing electrical cables for the control cabinet.
Nowadays, the control cabinet is also known as the electrical cabinet or control cabinet, which is one of the crucial types of equipment used in industrial fields. A control cabinet is a place where many electronic devices are concentrated to control the operation of a system, machine, or several devices in a production system. The control cabinet has the role of transmitting accurate and stable information to operate the equipment in the production system.
Many devices inside the control cabinet can be programmed to perform specific functions and are commonly used in industrial or automation applications, to serve in factories, workshops, pump stations, concrete batching plants, etc.
About the structure of control cabinets
Control cabinets are usually composed of main components such as MCCB/MCB switchgear, contactor, relay, timer, inverter, soft starter, or star-triple starter. The outer shell of the control cabinet is usually made from a powder-coated metal sheet to ensure safety.
For each type of control cabinet, the manufacturer will add/remove different components depending on the demand of users. For example, industrial control cabinets often have several parts such as dust filters, thermal relays, indicator lights, contactors, inverters, etc.
To ensure the types of equipment in the control cabinet works effectively, you need to have suitable cables. In particular, in harsh environments such as high temperatures, toxic chemicals, or areas with the potential for fire and explosion, cables with appropriate technical characteristics will contribute to ensuring safe production and avoiding causing damage to the factory.
3 crucial factors when choosing control cables for control cabinets
There are 3 basic criteria you need to pay attention to such as length, cross-section or diameter, and material of the cable when choosing cables for the control cabinet.
1/ Length of cables
Cable lengths need to be determined to meet the requirements of a particular application. If the power cable is too short, it will make it difficult to install and connect between devices in the control cabinet, specifically, the bending radius is not guaranteed.
Conversely, if the cable is too long, it can cause voltage or signal loss and affect the transmission performance of the system. Therefore, determining the length of the power cable is very important, you need to determine the exact distance to transmit to choose the right length of the control cable for the control cabinet.
2/ Cross-section / Diameter of cables
The cross-section/diameter of the cable must match the current and voltage of the control devices. If cables are too small, they will not meet the current and voltage requirements, resulting in flickering devices, loss of performance, and potential equipment damage. On the other hand, if cables are too big, they are not necessary and will increase costs, as well as take up space inside the cabinet.
Choosing the wrong control cables with the wrong cross-section (diameter) is a common mistake if not considered carefully from the beginning. Therefore, to avoid additional costs incurred when buying cables and losing a lot of space inside the cabinet, you should choose the line of cables with the appropriate cross-section (diameter).
3/ Material of the cables
The material of the cables is also essential, you need to choose the control cable with the suitable material for the working environment of the control cabinet. For instance, when using in a high-temperature environment, you should choose cables with high heat-resistant materials that are resistant to fire spread or even fire to ensure the safety of the control cabinet.
Some lines of cables used in the control cabinet you can refer to as:
PVC Single core H05V-K / 05V-K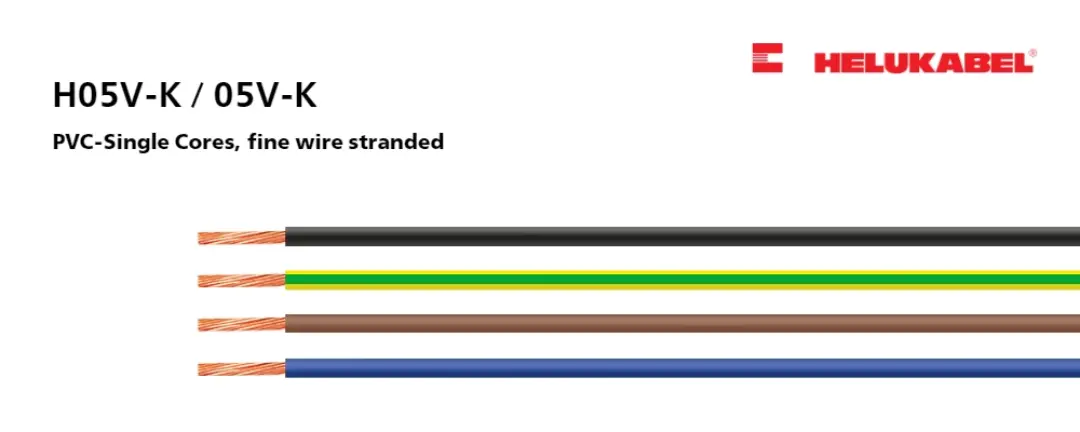 PVC Single core H05V-K / 05V-K cables are basic types commonly used in control cabinets, produced by HELUKABEL.
PVC Single core H07V-K / 07V-K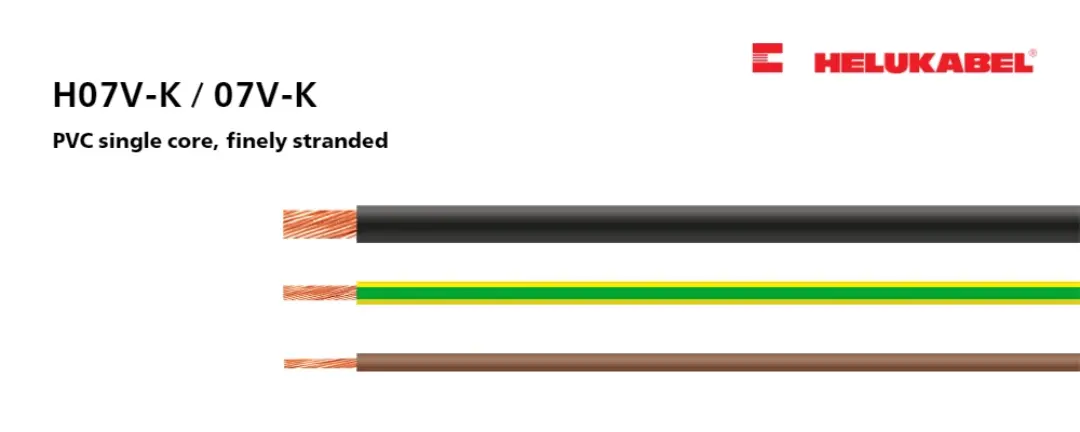 PVC Single core H07V-K / 07V-K cables are basic types commonly used in control cabinets, produced by HELUKABEL.
HELUTHERM® 145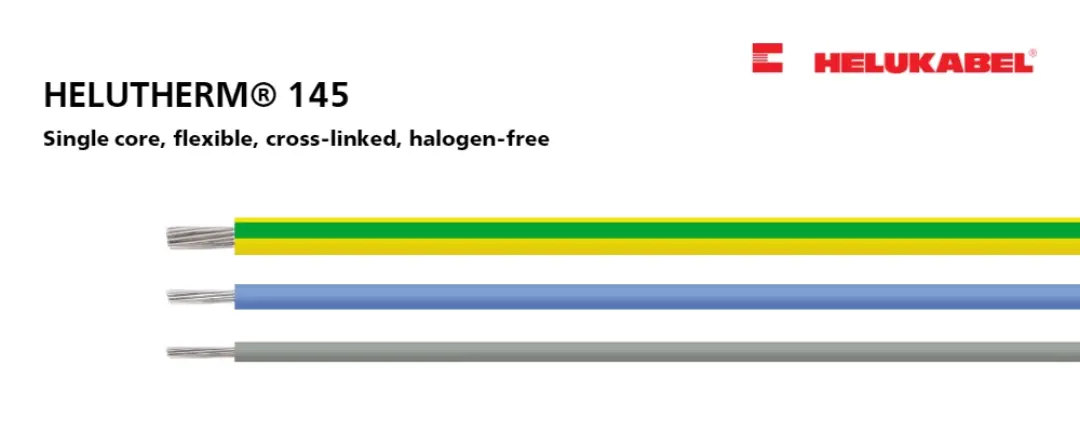 HELUTHERM® 145 control cables are heat resistant up to 145°C, suitable for control cabinets in harsh operating environments.
SIHF - increased temperature resistance, tinned wire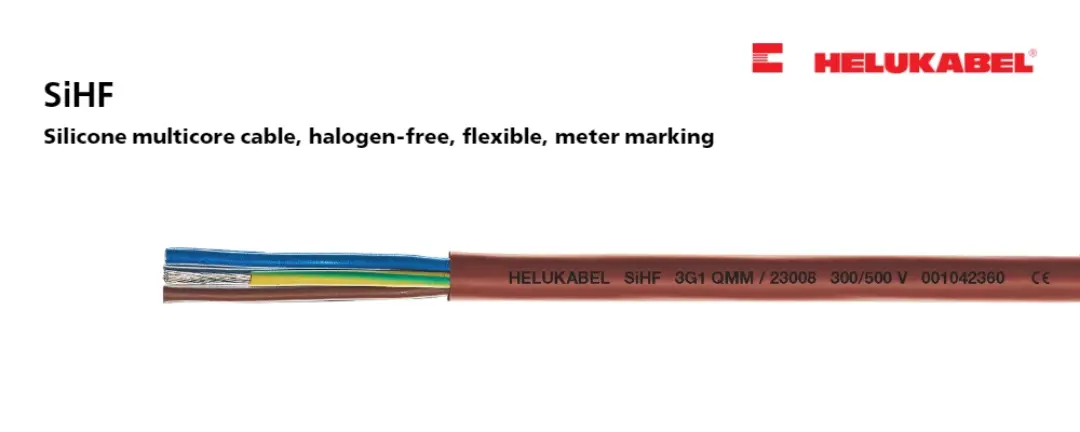 The SiHF cables are heat resistant up to 180°C, meeting the operating standards in high-temperature environments such as steel mills.
H05Z-K / H07Z-K - Single core, halogen-free
H05Z-K / H07Z-K cables manufactured by HELUKABEL withstand temperatures up to 90°C, are halogen-free, suitable for use in control cabinets.
Above are some factors when choosing dedicated cables for the control cabinet. If you need more in-depth technical support or advice on a comprehensive electrical connection solution, please contact our engineers for quick assistance.
For more information, please contact:
HELUKABEL® Vietnam
54, Street 1, Cityland, Ward 7, Go Vap District, Ho Chi Minh City 700000, Vietnam
Tel. +84 28 22536441 | info@helukabel.com.vn | www.helukabel.com.vn
SCHEDULE A MEETING WITH OUR ENGINEERS HERE!
Back