ELECTRIC & POWER VIETNAM 2022 EXHIBITION: PROMOTING THE ENERGY TRANSFORMATION TREND
HELUKABEL AT ELECTRIC & POWER VIETNAM 2022
03 days (September 7-09) at the 8th Power Generation, Transmission, Distribution technology & Renewable energy Exhibition in Vietnam (EPV22), we, HELUKABEL are delighted that the event went well with many memorable moments. This year's exhibition has created a foundation to promote the trend of energy transformation, opening many opportunities for domestic and foreign businesses to meet and exchange in many fields, including industrial automation and renewable energy.
Currently, global climate change is causing many consequences for human lives. The trend of switching to using renewable energy to protect the environment is gradually becoming popular and an inevitable trend in the future, when energy sources are gradually depleted. At the same time, besides the continuous development of society, businesses also need to timely update and apply automation technology in the production process, to save costs and labor while still ensuring the stable performance of the plant. Therefore, EPV 2022 Exhibition was organized to create a sustainable cooperation community, providing opportunities for connection between domestic and foreign enterprises doing business in the field of equipment, machinery, electrical connectivity solutions, renewable energy, and more.
Mr. BT Tee, General Manager of Informa Markets Company (SES Vietnam), the exhibition organizer added: "The theme of energy transformation in this year's exhibition is to contribute to reducing the greenhouse effect and avoiding negative impacts on the environment. At the same time, when businesses apply modern technology in production to protect the environment, I believe it will bring positive values ​​and lead to sustainable development for the community. In addition, the biggest value that the exhibition wants to bring is the direct connection between customers and suppliers. When they come here, they can observe and test the product, especially chat with the supplier. It will be difficult for you to decide to buy a large technology order on the internet".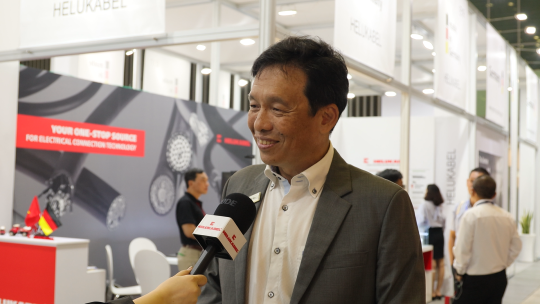 Mr. BT Tee, General Manager of Informa Markets Company (SES Vietnam), the exhibition organizer.
The EPV2022 exhibition attracted more than 5000 visitors and experts with a display area of ​​more than 4000m², and more than 200 exhibitors from more than 22 countries and territories. The event brought many interesting experiences, meeting the needs of finding solutions for many visitors. Mr. Duy, a visitor to the event, working at Nhat Ha Electrical Engineering Company, said: "I came here to look for electrical equipment for testing and construction projects electricity so that the project must be by standards, saving time and achieving high efficiency. This event has many new suppliers and solutions for visitors to choose from".
Mr. Thomas Jakobsen, Managing Director of Indochina Energy partners PTE. LTD, one of the exhibitors, shared: "This event is fantastic with the theme partly related to renewable energy, which is a long-term solution and also a future trend. At the event, we bring solutions related to photovoltaic systems to customers, helping them solve the problems they are facing when installing solar energy systems."
In the EPV exhibition, we, HELUKABEL Vietnam also bring diverse solutions to customers and partners. Mr. Prapan Angsuthasawit, Director of HELUKABEL Vietnam emphasized: "This is an interesting and useful event for suppliers and customers in Vietnam after the Covid-19 pandemic. Participating in this exhibition, we bring two main solutions for the automation industry and the renewable energy sector. The electrical wires, cables, and accessories we supply are suitable for photovoltaic systems, wind energy, and electric vehicles. With the electrical connection solutions available at the event, we also want to contribute to promoting the development of renewable energy, towards sustainable development in the future."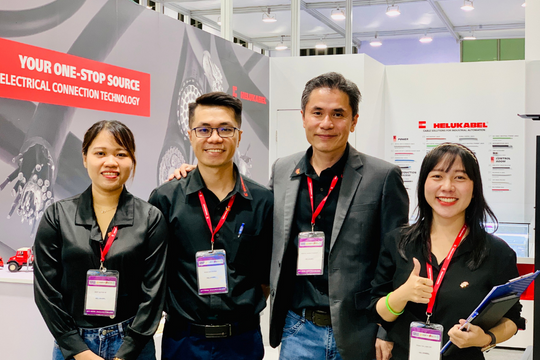 Mr. Prapan Angsuthasawit, Director of HELUKABEL Vietnam (wearing a vest, standing from right to left), and the sales team.
"The cable is a small element but plays an important role in the photovoltaic system. Fire or short circuit problems in the system often stem from substandard cables. That is why we always choose HELUKABEL cables because the products meet strict German and European standards, are safe and effective for the whole system", Mr. Thomas Jakobsen added when it comes to the importance of power cables in solar projects carried out by Indochina Energy Partners PTE. LTD.
Some pictures at the EPV 2022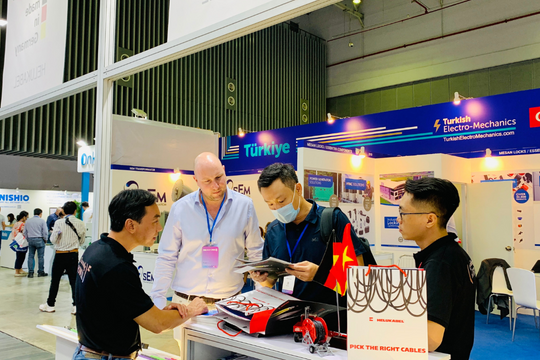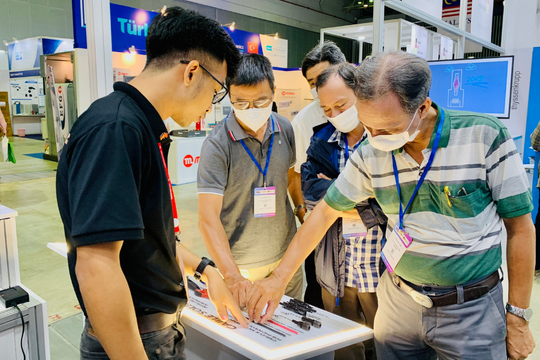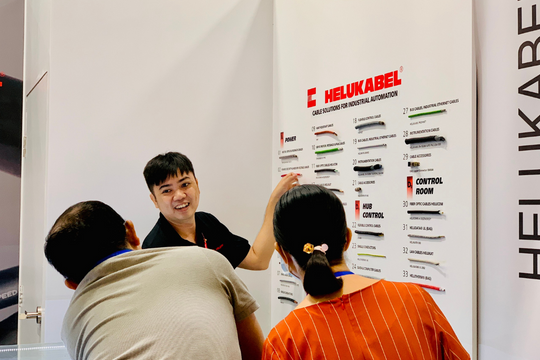 In conclusion, during the three days of the event, we, HELUKABEL Vietnam had memorable moments when meeting and connecting with many potential customers and partners. For the success of this event, we would like to thank the Organization, German Pavilion, Balland Messes-Vertrieb GmbH, and customers, who have always supported and co-operated with us throughout the exhibition. We, HELUKABEL will continue our journey to bring optimal electrical connection solutions to customers in Vietnam with a portfolio of more than 33,000 products of wires, cables, and accessories suitable for many different fields.
Back