HELUWIND®, CLEAN ENERGY!
Some products in the HELUWIND® WK cable series with greater than 18,000 twist cycles test and withstand up to 216° over 1-meter distances.
After the 2021 United Nations Climate Change Conference (COP26), the transition to renewable energy is an inevitable trend so that Vietnam can cut net emissions to zero by 2050. Therefore, among the forms of renewable energy, wind energy is one of the promising energy sources and needs to be developed in the future.
Vietnam is a country located in the tropical monsoon climate and has a coastline stretching over 3000km, so there is a huge potential for wind energy development. According to the survey results of the Energy Assessment Program for Asia of the World Bank (WB), Vietnam is the country with the largest wind power potential in Southeast Asia. The total wind power potential of Vietnam reaches 513,360 MW which is 200 times larger than the capacity of the Son La hydroelectric power plant and more than 10 times the total forecasted capacity of Vietnam's electricity industry in 2020.
Besides, according to the report of the General Department of
Meteorology and Hydrology (Ministry of Natural Resources and Environment) on the potential of wind energy, offshore in Vietnam's seas, the seas are capable of exploiting wind energy wind volume is very good, specifically in the area from Binh Dinh to Ninh Thuan, Binh Thuan to Ca Mau, and part of the central sea of ​​the Gulf of Tonkin. In addition, the most appreciated area for wind power potential is the sea from Ninh Thuan to Ba Ria - Vung Tau with an average speed of 8m - 10m/s, and the average annual energy density is from 600W to common over 700W/m2.
( References)
In Vietnam, the transition to wind energy, besides the potential, still has some challenges. In particular, the installation and construction of wind energy projects require investment in equipment and machinery for smooth operation. In the process of converting wind energy to electricity through turbines, we need a stable electrical connection system to transmit the signal correctly.
At HELUKABEL, we offer the HELUWIND® cable line, a specialized product in the wind energy field, which is researched and developed by our experts. At the beginning of the free-drop zone, the loop system will require stricter standards for the rope's resistance to twisting. Cables in this area must pass tests with twisting cycles of up to thousands of turns. Some products in the HELUWIND® WK cable series with greater than 18,000 twist cycles test and withstand up to 216° over 1-meter distances.
Moreover, in the wind power industry, there are many special oils used for lubrication, to reduce engine friction, they exist in areas such as the engine housing of wind turbines (Nacelle). Many materials fail due to accelerated aging when exposed to these oils.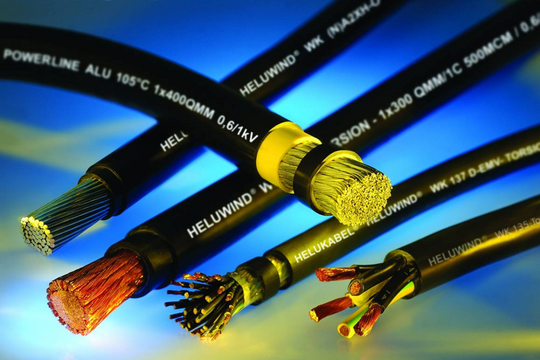 Therefore, HELUWIND® WK products are designed for 24/7 operation in oily environments. Proven durability is passing the Test Procedure (Oil Res I, Oil Res II) of the VDE or UL standard, ensuring a long product life. At the same time, the product is also applied to vertical lifts (elevators in wind turbines).
In addition to meeting the requirements of good torsion and oil resistance, the anti-interference ability of control cables and signals is a basic requirement in all applications. In particular, in the wind energy industry, the anti-interference layer is specially designed. Our cable research and development department is constantly focusing on conductor performance, they have used a D-shaped anti-interference layer (wrapped screen) to ensure optimal not only performance but also enhance the product life cycle. This conductor type is important in the Loop area where twisting and wear applications are high in the wind pylon. Some popular HELUWIND® cables that you can refer to include: HELUWIND® WK 110-TORSION, HELUWIND® WK 110-TORSION MULTI*, HELUWIND® WK LIFT, HELUWIND® WK MS-SINGLE-TORSION 610, HELUWIND® WK MS SINGLE-310-TORSION.
For wind energy projects, aluminum power cables will be preferred because they are 70% lighter than copper cables. Despite being lighter in weight, aluminum power cables still have the same performance as other copper cables. Some popular aluminum cables such as HELUWIND® WK POWERLINE ALU MS-SINGLE, HELUWIND® WK POWERLINE ALU SINGLE, HELUWIND® WK POWERLINE ALU MULTICORE, ALUMINUM MV-90 & MV-105.
We, HELUKABEL also provide a complete electrical connection solution for the whole wind energy system, not only wires and cables but also accessories and connectors. We always aim to bring customized and complete solutions to every project.
If you need detailed advice on choosing the wires, cables, and accessories for wind energy projects, we, HELUKABEL are willing to listen and help you find solutions. We are ready to accompany you in all clean energy projects, to contribute to the construction and development of sustainable energy sources for the community.
Back