TROMBOI 1400 - Cable unwinder for drums weight up to 1500 kg
TROMBOI 1400 is produced by Kabelmat, our subsidiary of HELUKABEL, which helps to unwind cable, ensure safety and prevent the cable drum from falling during use.
In the process of installing electrical cabling for large projects, manual cable unwinding often presents some challenges in pulling the cable out of the drum, especially for large cable drums. Understanding these issues, Kabelmat, a subsidiary of HELUKABEL, has designed and manufactured manual cable unwind to assist electrical engineers in various versions. In particular, the cable drum unwinder TROMBOI 1400 is a product designed to be simple, lightweight, and easy to use anywhere.
TROMBOI 1400 - Cable unwinder for drums weight up to 1500 kg
TROMBOI 1400 is produced by Kabelmat, which assists in removing cable drums made from wood, steel, and plastic easily and quickly, limiting the situation of twisted cables when done manually.
TROMBOI 1400 can withstand cable drum with a maximum weight of 1500kg with Ø 500 - 1800 mm. The product possesses several outstanding advantages including
Compact design, convenient to transport and use in many different environments and terrains.
Flexible design with a suitable ramp to support the easy pushing of cable drum onto the unit (Loading ramp)
The device helps you to remove the cable easily without twisting and breaking, affecting the quality of cables.
Rollers can be adjusted to the size of each different cable drum.
Technical data of TROMBOI 1400
| | |
| --- | --- |
| Length | 2 x 760 mm |
| Width | 270 mm |
| Height | 140 mm |
| Color | Galvanized |
| Weight | ca. 27 kg |
| Drum- Ø | 500 – 1800 mm |
| Drum width | Variable |
| Drum weight | Max. 1500 kg |
| Side guide rollers | 2 Piece ball bearing mounted |
| Unwinding rollers | 4 Piece double ball bearing mounted |
Kabelmat – Manufacturer and Supplier of Winding, Measuring & Warehouse systems
Kabelmat is one of the market leaders in winding, measuring, and storage technology sectors for the electrical cable industries, founded in 1963 in Horb-Bildechingen, headquartered in Black Forest, Germany. Kabelmat is specialized in manufacturing and providing solutions for cable processing equipment and machinery, including steel cables, flexible pipes, profiles, etc. Kabelmat's product portfolio is very diverse with different functions, these products are manufactured according to German techniques and are always innovated to improve product quality.
Besides, Kabelmat is our subsidiary, HELUKABEL. With this partnership, we can bring you a comprehensive solution portfolio from wire & cables, cable accessories, and other auxiliary equipment and machinery to make your job easier.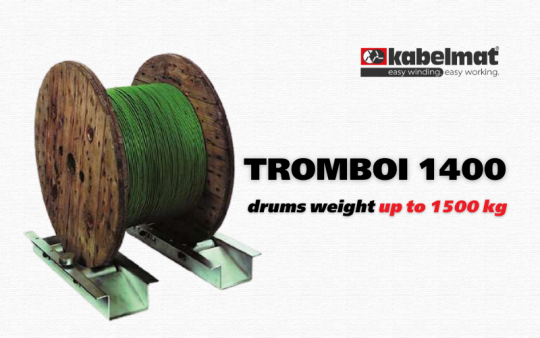 With the compact, manual unwinder for drums with max. 1500 kg and drum Ø of 500 - 1800 mm, winding materials can be unwound without twisting.
Currently, manual cable unwinder products of Kabelmat are available at HELUKABEL Vietnam to be ready to serve you. If you need more specific advice about the TROMBOI 1400 or specialized cable lines for your project, please contact our engineers for quick support.
For more information, please contact:
HELUKABEL® Vietnam
54, Street 1, Cityland, Ward 7, Go Vap District, Ho Chi Minh City 700000, Vietnam
Tel. +84 28 22536441 | info@helukabel.com.vn | www.helukabel.com.vn
SCHEDULE A MEETING WITH OUR ENGINEERS HERE!
Back