HELUKABEL VIETNAM | STRUCTURE OF CONTROL CABLES

HELUKABEL ACADEMY | Structure of Control Cable
Nowadays, the industrial field is increasingly developing and requires improvement to adapt to 4.0 technology. Therefore, the application of automation in production is gradually becoming an inevitable trend. Control cables play an important role in increasing production efficiency and ensuring the stable operation of machines. Please read our article to learn about the basic structure and application of control cables in production.
In the wired transmission industry, we have two transmission technologies, such as electrical and light. Besides, most control cables on the market will use electrical transmission technology. In particular, the conductor is made of copper and plays an important role. With stable transmission ability, control cables are used in many different fields, not only in daily life or large projects but also in manufacturing plants, serving the industrial automation sector.
The basic structure of a control cable
The control cable is composed of 6 main components including:
The conductor is made of copper, aluminum, an alloy, or metal with the task of conducting electricity, ensuring the transmission line to electrical equipment is always stable.
Insulation is PVC material with the task of protecting the conductive core, with good insulation ability to ensure safety during use, especially environmentally friendly.
Shield tape is usually made of aluminum foil or braided copper mesh, with the task of helping to protect the control wire from interference.
Armour is made of steel or aluminum. It is responsible for protecting internal components against external forces.
The inner sheath and the outer sheath are usually made of sturdy PVC material with the task of protecting the integrity of the cable, ensuring safety, insulation, and resistance to the explosion.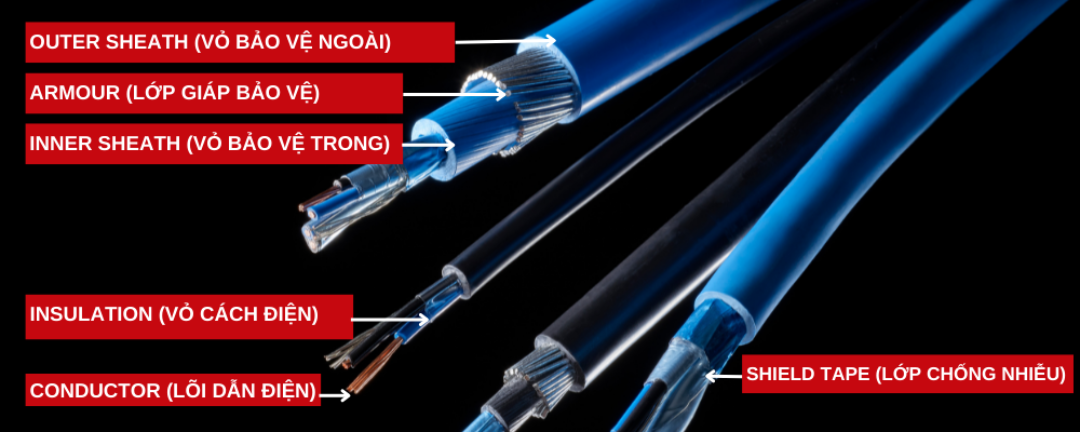 What material is the conductor made from?
According to the IEC 60228/VDE 0295 standard, there are three basic materials to create an electrical conductor, such as copper, aluminum, alloy, and metal. The exploitation of material resources to produce conductors must meet global standards.
For example,
Copper to be exploited from big copper mines in the world: Chile, the USA, Peru, Australia, and Russia.
The quality of copper after mining must comply with the general standard E-CU58 F21.
The purity of copper falls to around 99.99% for ordinary electrical conductors. Besides, oxygen-poor copper, up to 99.95% purity, this copper is used for specialized audio applications.
If considering between three factors of cost, weight, and electrical conductivity, copper achieves the most optimal. Therefore, copper is the material of choice by manufacturers to produce electrical conductors. However, aluminum, alloys, and metals also have different advantages, such as aluminum being lighter and cheaper than copper, which is used for high voltage transmission. Alloys, metals with good bend radius properties, are often applied to narrow spaces.
In the future, plastics can replace other substrates by adding old materials such as stainless-steel chips, steel fibers, silver-coated glass beads, graphite, or carbon black.
Application of the control cable
Control cables are not only used in civil electricity but are mainly applied to industrial electrical equipment. With stable and safe power transmission and high durability, control cables are used as connecting and controlling in tool machines, conveyor belts, assembly lines, plant engineering, AC technology, steel production, and other manufacturing environments. Selected PVC compounds guarantee food flexibility as well as an economic and fast installation.
Some popular control cables on the market today can be mentioned as JZ-500 and F-CY. These are our two outstanding lines of control cables in the Vietnam market. Both the JZ-500 and F-CY have the good anti-interference ability, ensuring stable transmission during production operation. The product is suitable for use in manufacturing plants thanks to its oil resistance, resistance to cleaning chemicals and flexibility, and ease of installation.

In conclusion, understanding the basic structure of the control cable will help you understand the operating principle and make appropriate choices in electrical connection technology at the manufacturing plant. If you have any questions about electrical connection technology, please contact our engineering team for advice and support on the most suitable solution!
For more information, please contact:
HELUKABEL® Vietnam
54, Street 1, Cityland, Ward 7, Go Vap District, Ho Chi Minh City 700000, Vietnam
Tel. +84 28 22536441 | info@helukabel.com.vn | www.helukabel.com.vn
SCHEDULE A MEETING WITH OUR ENGINEERS HERE!
Back