APPLICATIONS OF DRAG CHAINS IN INDUSTRIAL AUTOMATION
In industrial automation, drag chains are essential equipment to keep production lines running smoothly, reducing stress on cable systems in moving applications.
APPLICATIONS OF DRAG CHAINS IN INDUSTRIAL AUTOMATION
The fourth Industrial Revolution
After the fourth Industrial Revolution (Technology 4.0), all areas have begun to enter the digital transformation and break old principles to update new development trends. In particular, the application of automation in industrial production is an inevitable trend to create good quality products at competitive prices, helping to increase productivity and reduce costs. Currently, industrial automation has been applied in many fields such as the manufacturing industry, automatic assembly line, mechanical processing, quality control application, and the F&B industry, etc.
Industrial automation is the application of automatic control systems, such as computers, and robotic arms to operate mechanical equipment without human involvement or less human than the traditional manual production process. Among machines for automated production, the drag chain is one of the products that contribute to the smooth operation of the production line, reducing pressure on the cable system during high-frequency continuous motion.
"Lightweight - flexible - high performance"
Drag chains are designed as a strong protective frame, helping to separate, reduce the pressure on the cables and protect them from negative impacts during movement in the production line. Drag chains are called by many different terms such as Cable chains, and Energy chains.
Usually, the material for making the drag chain is plastic, iron, or stainless steel to ensure good performance and long life. Depending on the requirements of the factory, and the field of production, you can choose suitable materials. There are three basic types of drag chains on the market as follows:
Drag chains for horizontal movement
In a production line that requires a lot of horizontal movement, the cable has to be under pressure when it has to move continuously. Therefore, the horizontal movement of the drag chain will help the cable move in the right direction, limiting pressure and friction. In addition, the drag chain also saves space and is suitable for many factories.
Drag chain for vertical movement
Drag chains for vertical movement are suitable for applications where vertical movement is up and down commonly. To do this, the factory must consider attaching additional brackets so that the cable and wire do not fall out during transportation. However, with these motion-specific drag chain solutions, you can rest assured that your move is smooth, noise is reduced, and repairs are easy.
Drag chains for circular and torsion movements
For factories that have circular production lines and need to ensure that cables are good at transferring data, energy, or liquids, a drag chain for circular and torsion motion is the right choice. In particular, with this type of drag chain, you can optimize costs, easily thread cables and save installation space, suitable for applications with small installation space, tightly fitting to the rotating shaft.
To find the drag chain for the factory, you have a wide selection from well-known brands. For instance, EKD is one of the oldest drag chain manufacturers established in 1970. Drag chains are developed according to international standards, made from steel and plastic, and suitable for many fields. Some products of the EKD brand can be mentioned such as Steel link chain SLE, Steel tube SFK, Large chain GKA, Plastic tube PFR, and Plastic link PLE...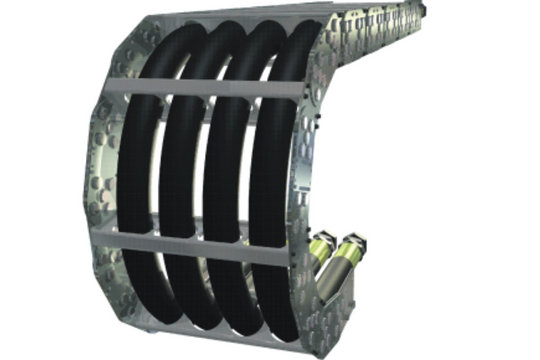 Large chain GKA.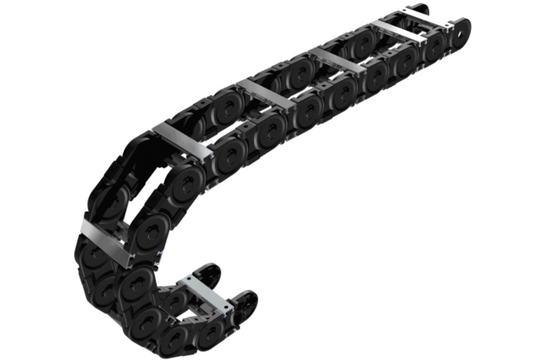 Plastic link PLE.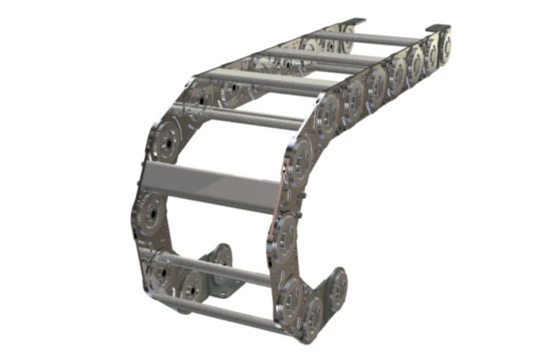 Steel link chain SLE.
Cables suitable for drag chains
In addition to choosing the right type of drag chain for your plant's requirements, you should also consider choosing a compatible cable type. Because the cable used in the drag chain must move continuously with high frequency, if the cables are not flexible, they will easily break, unable to transmit accurate information, affecting the whole production chain.
Some lines of cables suitable for use in motion applications can be mentioned as JZ-HF, JZ-HF_CY, MULTIFLEX 512®-PUR UL/CSA, MULTIFLEX 512®-C PUR UL/CSA, SUPER -PAAR-TRONIC 340-C-PUR. Among the cables listed above, MULTIFLEX 512®-PUR UL/CSA cables are the most outstanding product with the following advantages:
High resistance to mechanical stress, tensile strength, impact abrasion resistance
Durability, long life thanks to low friction resistance using PP insulation shell
Resistant to weather, ozone, ultraviolet radiation, solvents, acids, alkalis, etc.
In the production process, drag chains will help prevent the cables from tangling during operation; cable life is significantly increased; reduce the cost of motor and synchronous mechanism of wire rope hoist; cable protection from external agents such as temperature, corrosion, UV rays, oil, etc. With the benefits of drag chains, you can consider choosing this product for application manufacturing.
If you need advice on technical issues related to drag chains, cables, and accessories, please contact our engineers for support. At HELUKABEL, we provide comprehensive electrical connection solutions including drag chains that have met global standards, and are researched and manufactured by experienced engineers.
For more information, please contact:
HELUKABEL® Vietnam
54, Street 1, Cityland, Ward 7, Go Vap District, Ho Chi Minh City
700000, Vietnam
Tel. +84 28 22536441 | info@helukabel.com.vn | www.helukabel.com.vn
SCHEDULE A MEETING WITH OUR ENGINEERS HERE!
Back