INTENSIVE CONNECTIONS AT VIAF 2022 EXHIBITION
On November 9-11, we, HELUKABEL Vietnam participated in Vietnam Industrial Automation Fiesta 2022 (VIAF). The event took place successfully at Kinh Bac Cultural Center, Bac Ninh province, Vietnam with the participation of more than 200 exhibitors and about 15,000 visitors with a display area of up to 10,000m2.

Following the success of the Vietnam Industrial Automation Exhibition series (VIAF - Vietnam Industrial Automation Fiesta 2022) in Binh Duong and Da Nang, the 3rd edition of the series of events was organized in Kinh Bac Cultural Center, Bac Ninh province, Hanoi City, Vietnam.
VIAF is an international exhibition specializing in large-scale automation in Vietnam and Southeast Asian countries, organized by the event organization OMG. The exhibition is a small market to display and introduce machines, equipment, tools, materials,
and technology that are applicable in the manufacturing industry, mechanical engineering, automation, etc., attracting many domestic and foreign enterprises to attend to bring solutions for many different sectors.
At our booth B10, HELUKABEL Vietnam, we brought comprehensive electrical connection solutions, covering most of the key areas of the event. Some of our main solutions are related to Industrial Automation; Data, Network & Bus technology; Photovoltaics.
Mr. Prapan Angsuthasawit, Director of HELUKABEL Vietnam emphasized: "This is our first time participating in the exhibition in the North. The market here focuses on heavy industries such as cement and mining. Therefore, the products we supply in this market are also more special than those in the South. We have prepared a lot to bring comprehensive solutions to customers in the North with main products related to heavy industries, Photovoltaics, Industrial Automation, Renewable energy, BAS (Building Automation Systems)… We not only accompany customers during the three days of the event, but we also have an office in Hanoi ready to support customers at any time."
Quan, currently working at Canon Tien Son Factory, a visitor said: "I came to the exhibition to look for solutions for the factory's automation production. In addition, I am also looking for products for power cables and LAN cables… I feel that event is meaningful,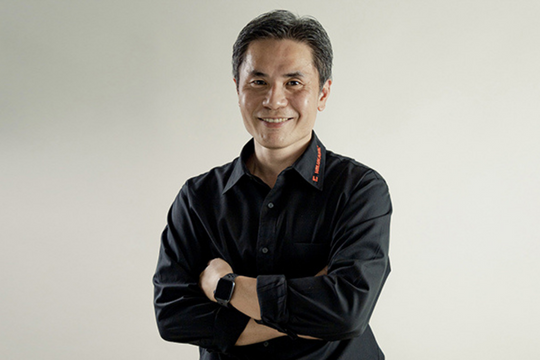 Mr. Prapan Angsuthasawit, Director of HELUKABEL Vietnam.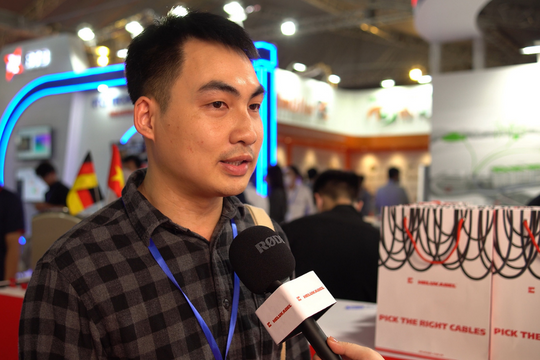 Anh Quan, currently working at Canon Tien Son Factory.
creating an opportunity for me and the visitors to meet directly with suppliers and exchange information on more specific products and techniques".
In addition, some customers visiting our booth B10 also shared about problems in their field. "Most of my customers are looking for power cables that meet the criteria of good signal transmission and can withstand the continuous movement of machines. Moreover, some factories also require the power cables to have good anti-interference ability to ensure the correct signal in the production line. Therefore, domestic cables cannot meet the requirements and I have to look to European electrical cable brands to meet the technical and quality requirements", said Doan Van Tho, working at Co., Ltd. Phuc Thinh Hai Phong shared.
Nguyen Quoc Doanh, Sales Engineer of HELUKABEL Vietnam said: "During the 3 days of the event, customers visiting the booth were all looking for specific solutions. In particular, some customers have problems with the durability of signal cables in the factory. At HELUKABEL, our highlight is our diverse product portfolio, which meets the technical requirements and applications in all locations in the factory such as power cables, control cables, signal cables, network cables, and cables for drag chains, etc.".
Talking about the market in the North, Nguyen Son Hai, Area
Sales Manager of HELUKABEL Vietnam also shared: "After the period of the Covid-19 epidemic and the global economic crisis, the Northern market has slowly developed. However, when the deep-water port project in Nghe An - Ha Tinh is completed, it will facilitate import and export, contributing to the market's further development in the future. Especially, in this difficult period, we will always accompany businesses to help them solve the problems and help improve the production efficiency of the factory with the optimal solutions".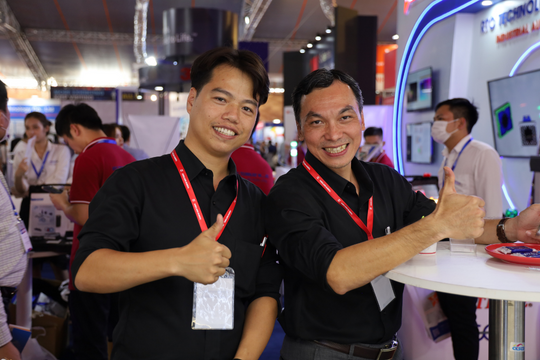 Nguyen Quoc Doanh, Sales Engineer of HELUKABEL Vietnam and Tran Tien Khuong Duy, Sales Manager of HELUKABEL Vietnam (from left to right).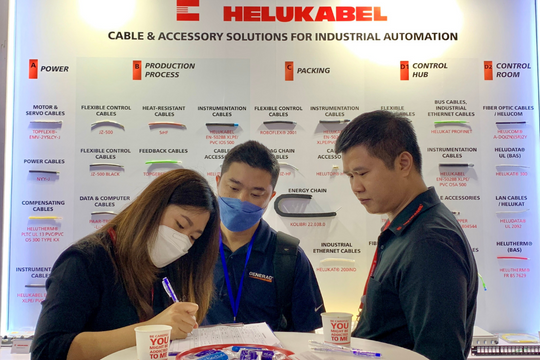 Nguyen Son Hai, Area Sales Manager of HELUKABEL Vietnam (black shirt, right side of the photo) and Ms. Hoang Ha Thu Hang, Sales Presentative of HELUKABEL Vietnam are consulting customers at the Exhibition.
At the same time, Nguyen Son Hai also shared: "Industries such as mining, shipbuilding, cement production, iron, and steel will have harsh environments. Therefore, power cables used in these fields need to be resistant to high temperatures, have good chemical resistance, and be able to withstand constant twisting and high mechanical stress. We, HELUKABEL can all meet these specifications with a wide range of products and custom-
designed products." Besides the activities of booths from companies in many different countries such as Germany, Singapore, Malaysia, Thailand, Vietnam... The VIAF also has many trade promotion & closing activities at events such as Business Matching, conferences, Technology Live demos, Robot Performances, and other activities.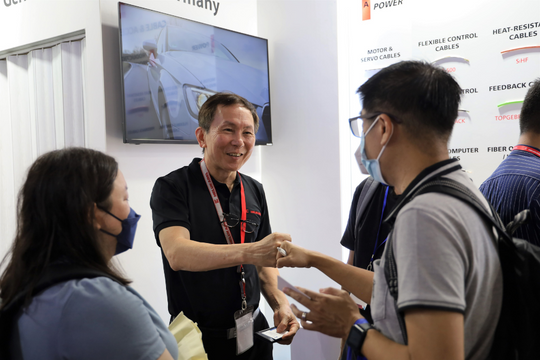 Mr. Sam, Manager at Helukabel Singapore Pte Ltd, is having an in-depth conversation with customers at the exhibition.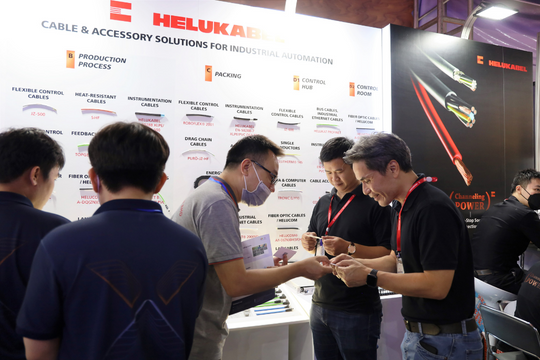 Mr. Prapan is talking to our experts and customers.
We, HELUKABEL Vietnam are pleased to have welcomed so many guests at our booth during the three-day exhibition. We would like to express our sincere thanks to the event organizer OMG for creating the opportunity to bring the HELUKABEL brand closer to customers, as well as to our partners and customers for taking the time to visit our booth.
Although we have made efforts to improve our event, there may still be many shortcomings. We hope that customers and partners can please ignore it or give us feedback so that we can improve. In addition, for customers who are busy and cannot attend the event but need advice on solutions, our engineers are always ready to advise and support you at any time, you can contact us directly to discuss specific solutions with our engineers.
Back