PLASTIC DRAG CHAINS, ARE THEY REALLY GOOD?
Nowadays, drag chains are one of the favorite products in industries, especially manufacturing plants. This device not only helps protect cables but also makes installation easier. In addition, drag chains also contribute to facilitating the repair or maintenance of electrical cable systems.
When the demand for drag chains is increasing, manufacturers launched many drag chain products made from distinctive materials such as plastic, iron, stainless steel, etc. Among the materials, plastic drag chains are considered a popular product because of their high applicability in many fields and help businesses optimize costs more than other materials.
Lightweight and Flexible installation
Plastic drag chains are made from polyamide plastic or can be combined with other materials such as aluminum, iron, and steel. Depending on the intended use and environmental conditions, manufacturers can adjust the design with suitable materials.
Some outstanding advantages of plastic drag chains that you can refer to are as follows:
Plastic drag chains have good abrasion and impact resistance, used in many environmental conditions such as acid, salt, grease, etc.
Normally, plastic drag chains can work well at temperatures from -20 degrees C to 100 degrees C thanks to the polyamide 6 plastic material reinforced with 35% glass fiber.
Drag chains made of plastic are relatively compact and easy to install and remove for maintenance and repair.
Plastic drag chain can withstand high pressure, heavy load
The product saves costs compared to other drag chains made of iron or stainless steel.
More than 50 years of designing and manufacturing drag chains
To expand our product portfolio, and to help our customers have a variety of solutions from a single source, in 2022 we, HELUKABEL, acquired EKD Systems. They are a new member of our group.
EKD Systems is one of the oldest drag chain brands established in 1970. Up to now, EKD has more than 50 years of experience in designing and manufacturing drag chains in the market.
Currently, EKD not only offers a diverse product portfolio of cable chains but can also design and manufacture according to customers' requirements. With 2D or 3D design technology, you can set criteria and consider adjusting the design accordingly until the finished product meets the requirements. This state-of-the-art technology will save you considerable time and money when looking for the right drag chain for application in the manufacturing plant.
Some of this company's high-quality polyamide plastic drag chains are that you can refer to, such as Kolibri, PPK, and PLE series plastic drag chains. The difference between these product lines is the design of optimal cable and duct space for specific applications based on three factors:
Inner height
Width inside
Load per meter and allowable length
In addition, the bend radius, travel speed, and travel distance of the drag chain also change when changing the above three factors.
Detailed information about 3 products of Kolibri, PPK, and PLE series cable chains
Kolibri drag chains
Open or closed construction
Inner height up to 50mm
Inner width up to 195mm
Ability to carry loads up to 5kg/m, with a maximum length of 3m.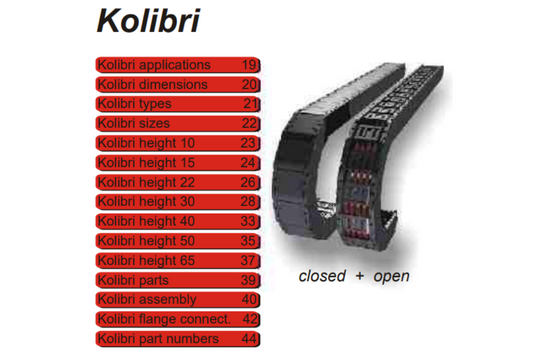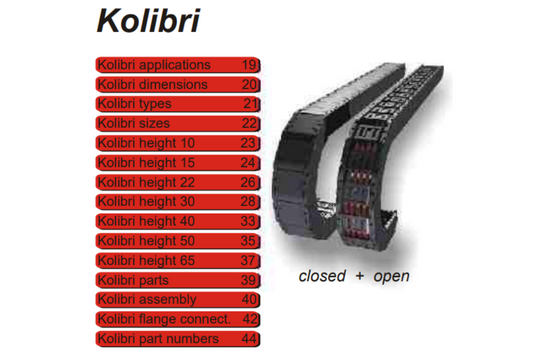 PKK drag chains
Open or closed construction
Inner height up to 80mm
Inner width up to 400mm
Load capacity up to 10kg/m, load length up to 6m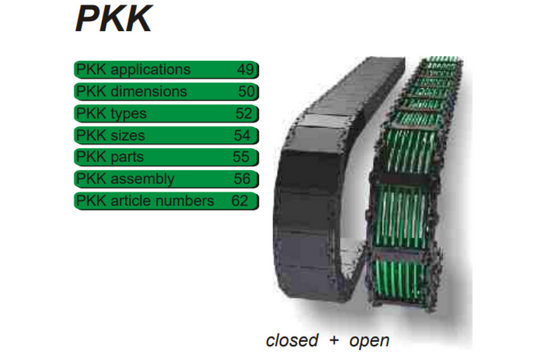 PLE drag chains
Open or closed construction
Inner height up to 120mm
Inner width up to 1000mm
Load capacity up to 24kg/m, load length up to 8m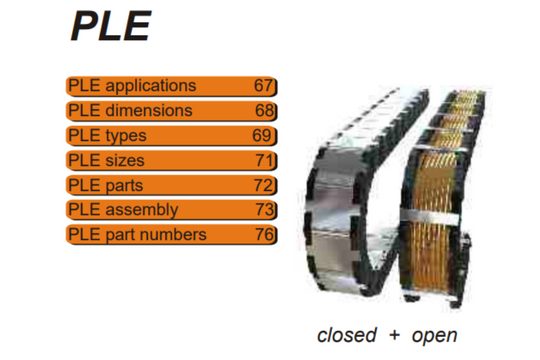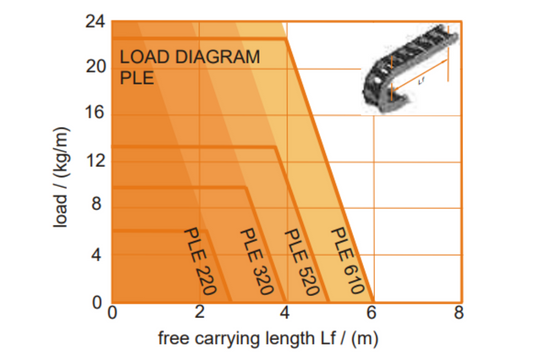 The 3 drag chain products with separate parameters and functions will be applied in a different part of the factory, depending on space and technical requirements. Besides the 3 lines of plastic cable chains mentioned above, EKD Systems also offers a variety of other stainless steel cable chains.
At HELUKABEL, we offer comprehensive solutions from drag chains to electrical cable products used in drag chains and their accessories. Choosing the suitable drag chain and internal power cable will help ensure quality during operation and the life of the equipment. If your manufacturing plant needs more in-depth support to select a complete solution, please contact our engineers for more specific advice.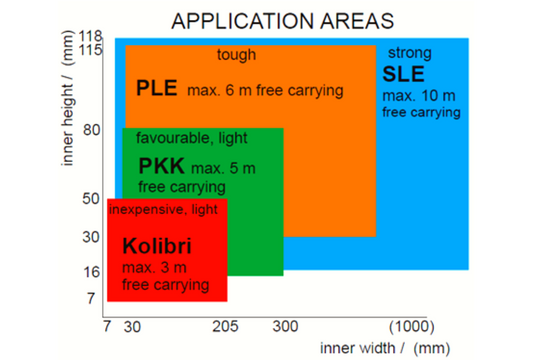 For more information, please contact:
HELUKABEL® Vietnam
54, Street 1, Cityland, Ward 7, Go Vap District, Ho Chi Minh City 700000, Vietnam
Tel. +84 28 22536441 | info@helukabel.com.vn | www.helukabel.com.vn
SCHEDULE A MEETING WITH OUR ENGINEERS HERE!
Back