SIGNAL CABLES AND F&B INDUSTRY DEVELOPMENT
Recent studies show that the F&B industry is really gradually becoming a business trend in Vietnam. This field predicts a promising new future. However, along with that development are challenges that are not easy. In this field, efficient factory operation is important to ensure the quality of output products, especially with wiring and signal cables in the production stages.
Factors promoting the development of the F&B industry
In addition to effectively managing and operating the staff in the production plant, the investment in equipment is also an important factor that needs to be taken care of. You should invest more in equipment that is just functional, of good quality, and durable over time. For large-scale F&B factory systems, modern machines are required to perform all stages, optimize labor, and increase productivity in a specific process. In which, it is impossible not to mention the signal cable system, the factor that helps the automation process in production go smoothly, saving manpower and costs but still ensuring the stable operation of the system's best output quality.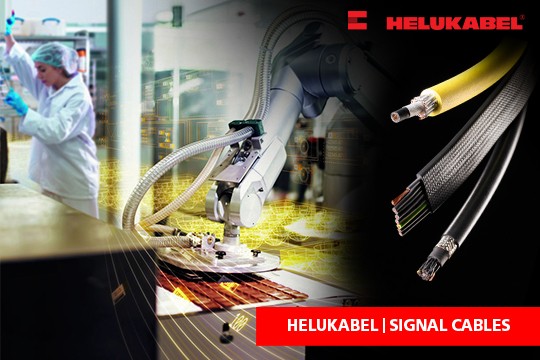 Applications of signal cable
There are many types of signal cables on the market, which are manufactured according to specific standards in accordance with the functions and tasks of each product, in their own specific environment, and to meet the needs of users. The basic components of a signal cable include:
Depending on the environment of use (high-rise buildings, factories, factories, etc.), the above factors have different characteristics:
High vibration, high degree of movement, continuous twisting
resistance to oils, chemicals, special gas, UV, and microorganisms.
Hot (180, 200, 400, 1000) or cold (-60, -50...)
Specific standards: fireproof, explosion-proof, mud-proof, immersion in water.
In cases where interference occurs due to the installation of parallel cables close to each other, it is necessary to use a meshed anti-interference signal cable to ensure that the transmission line, as well as the cable, are promoted to maximize their function. But in a stable environment without interfering factors, the gridless signal cable line is more suitable for installation.
In addition, in an environment with many characteristics such as high humidity, adverse weather, harsh conditions, etc., choosing the right signal cable also plays an important role. In order to achieve professionalization, minimize the amount of labor used, thereby increasing labor productivity, and bring about the best possible work efficiency, it is necessary to clearly understand the operation of the labor force. operating electrical cable systems in general, as well as signal cables in particular.
Thus, the signal cable is one of the important factors needed in the development of the F&B industry. Therefore, it is very useful to have basic information about standard signal cables.
Currently, all electrical wires, cables, and accessories from HELUKABEL undergo rigorous quality control stages at the factory, which include basic tests such as bending, stretching, stretching, crushing, and burning were performed to evaluate product quality. With more than 33,000 international standard product codes in 60 locations in 37 countries, we, HELUKABEL, are ready to provide comprehensive electrical connection technology solutions from a single source to our customers.
For more information, please contact:
HELUKABEL® Vietnam
54, Street 1, Cityland, Ward 7, Go Vap District, Ho Chi Minh City 700000, Vietnam
Tel. +84 28 22536441 | info@helukabel.com.vn | www.helukabel.com.vn
SCHEDULE A MEETING WITH OUR ENGINEERS HERE!
Back