WHAT ARE THE ADVANTAGES OF STEEL DRAG CHAINS?
Although plastic drag chains have many advantages in terms of applicability and cost savings, in heavy industries, steel drag chains should be the preferred choice.
Suitable for many industries
Nowadays, plastic drag chains are the popular choice of many factories because of their cost savings, and variety of models which can be applied to many fields. However, in heavy industries, such as steelmaking, metallurgy, mechanics, coal mining, etc. There are harsh environments with high temperatures, and frequent sparks, steel drag chains are the right choice because it has better resistance and durability than plastic drag chains in special environments.
For example, in environments where there are often welding sparks or sharp metal debris, using a steel drag chain will provide good protection for the electrical cables or inner tubes, and also help ensure the longevity of the equipment. Depending on the manufacturer, the steel drag chain will be individually designed, adding or removing details to suit the installation requirements of the industry.
Solid and durable
The outstanding benefit of steel drag chains is their high strength and better resistance to external forces than the plastic chain. In addition, some other benefits can be mentioned:
Steel drag chain does not bend or break during movement to protect cables or hoses.
The maximum operating temperature of a steel drag chain is higher than that of a plastic drag chain from -20°C to 600°C (stainless steel from -40°C to 600°C).
Material made of steel or stainless steel helps the drag chain to have a longer life and limits the wear and tear as with the plastic drag chain.
Steel drag chains can be extended or shortened to suit the application, convenient for maintenance and repair.
SLE drag chains
SLE drag chains are available as aluminum in a T-design or a slot profile. The product will be designed with a partition (PZ or SLR) to separate cables or pipes from each other. SLE drag chains are made of steel, stainless steel is the first choice for heavy industries that need to move large quantities of cables or heavy hydraulic hoses.
Some advantages of the SLE cable chain such as:
There are many different models
Easy to install and remove or adjust accordingly
Can shorten or lengthen quickly
Shield design protects the mechanical shaft of the cable chain
Chain travel distance is 100 meters (depending on application)
Operating temperature from -20°C to 600°C (for stainless steel is -40°C to 600°C).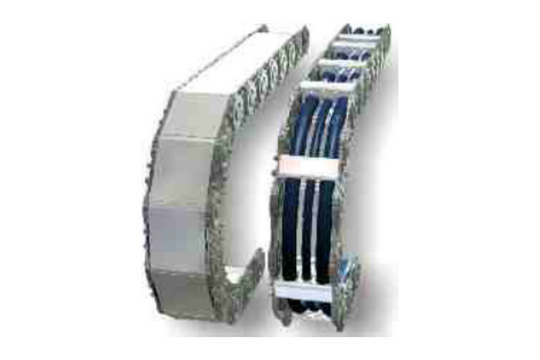 Open or closed design.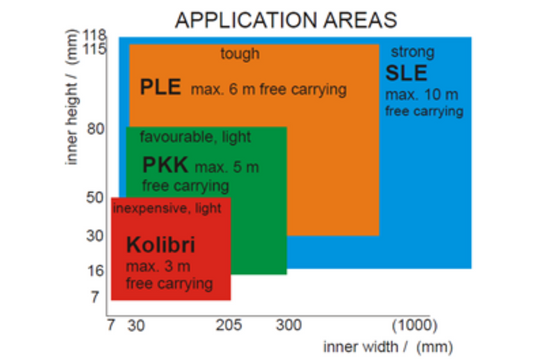 Inner height up to 118mm and inner width up to 1200mm.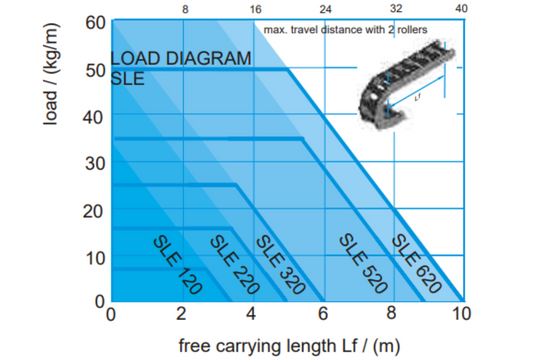 Load capacity up to 60kg/m, maximum length 10m.
Some types of SLE products you can refer to are:
• SLE 121, 221, 321, 521,621: The product is specifically designed for each drag chain, providing increased stability and improved navigation in tight areas.
• SLE 128, 228, 328, 528, 628: This type of drag chain is suitable for long-distance traveling applications. These drag chains are designed with stops in the links for increased stability. The drag chains are fitted with sliders with a very low coefficient of friction (µ = 0.2 to 0.25).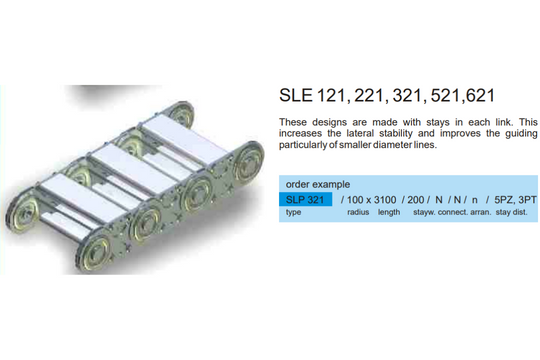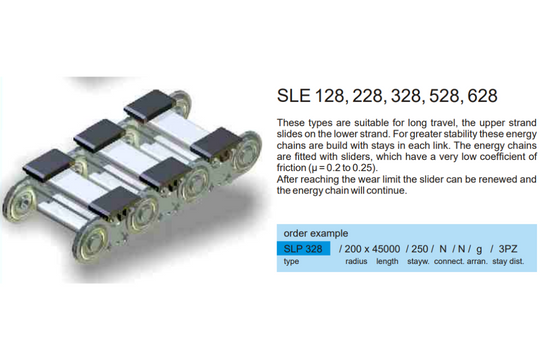 Each industry will have its own requirements for drag chain equipment for each area of the plant. Depending on the demand, using purposes, and working environment conditions, you can choose plastic or stainless steel drag chains.
In addition, at HELUKABEL, our subsidiary, EKD Systems, we also provide customized drag chain design solutions, applying modern 2D and 3D design technology to save costs and time for customers. If you are in need of more specific advice on the technical characteristics of drag chains and do not know whether to use plastic or steel drag chains, please contact our engineers for more detailed technical support.
For more information, please contact:
HELUKABEL® Vietnam
54, Street 1, Cityland, Ward 7, Go Vap District, Ho Chi Minh City 700000, Vietnam
Tel. +84 28 22536441 | info@helukabel.com.vn | www.helukabel.com.vn
SCHEDULE A MEETING WITH OUR ENGINEERS HERE!
Back