The Future of the Electric Mobility Market – A Conversation Between Experts
In our new "Industry in Focus" article series, experts discuss emerging trends in specific industries and their impact on business and society. To launch the series, P3 senior executives Robert Stanek and Jürgen Schenk take a look at electric mobility together with HELUKABEL expert Uwe Schenk.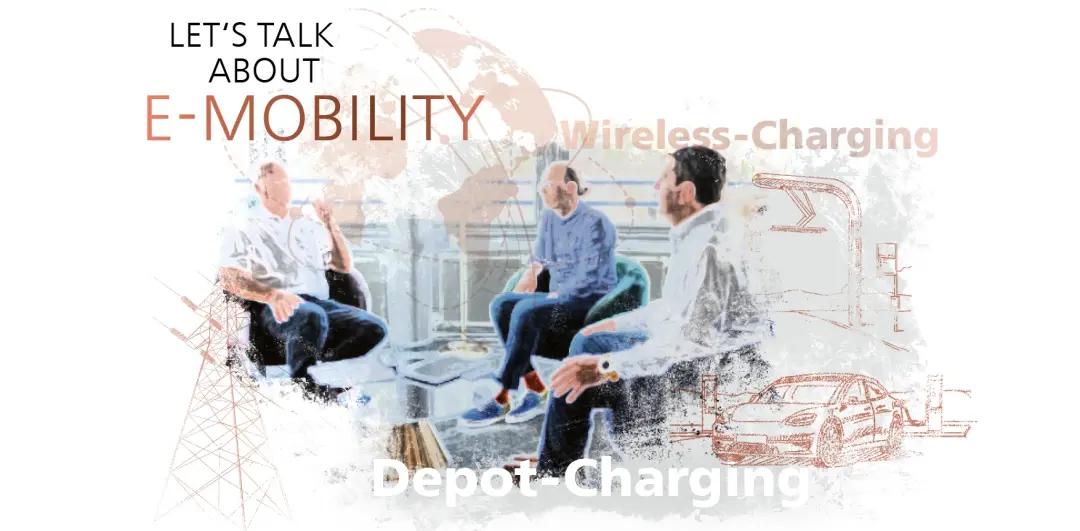 The future market of electric mobility is a topic that everyone is talking about. How long have you been involved with this megatrend?
Jürgen Schenk (JS): I've been following the transformation of the car industry for 15 years and am convinced electric mobility is the car market of the future.
Robert Stanek (RS): I've been interested in this topic for almost ten years, and in particular, how and when electric mobility will become economically viable.
Uwe Schenk (US): What appeals to me is the vastness of the field of application which goes far beyond cars. At HELUKABEL, for example, we're investigating fast-charging technologies for e-buses and solutions for maritime applications.
What's the current global share of e-mobility in transport?
RS: The largest electric mobility market is in China. About ten percent of cars there are battery powered. Here in the EU it's about three to five percent, and in the USA about three percent.
P3 sees the shift towards e-mobility as a holistic requirement that goes beyond simply electrifying vehicles. Can you give us an example?
RS: Yes, of course. Let's use charging infrastructure as an example. When we, at P3, certify a vehicle for the European market, we test it along with all the major charging networks in Europe. In an ideal world, the sat nav system would calculate the route with the best charging points and the fastest charging times. In practice though, there's still no user-friendly and coherent plug & charge network in Europe. And because there are so many different providers, depending on the country, we need several dozen charging cards for these tests. And this won't change until a harmonised charging standard exists and all vehicles meet the same technical requirements.
When is a charging standard likely to be available and how is the market changing?
RS: Many companies such as Allego or EnBW in Germany have been involved in infrastructure construction for more than ten years. Their network coverage is now very good, and they've already installed second or third generation hardware. There are also many other companies joining the market. For example, the Tank & Rast Gruppe has favourably located service stations along motorways and, together with its partner IONITY, they operate charging stations in almost 80 of them. But global players such as Google are also aware of the business potential here. The market is in the process of consolidation and lots of transactions are being made. Businesses are buying out other providers and companies are making new investments in the market.
How do you think the supply industry can help speed up the mainstream acceptance of e-mobility?
JS: The cooperation between vehicle manufacturers, the supply industry and charging station operators is very good in Germany. Thanks to various new development plans, investments are on the rise. It's true that competition has led to many heterogeneous systems in Germany. But this will resolve itself over time. German industry has the expertise to build an effective overall system.
What challenges does HELUKABEL face?
US: Our charging cables propagate a lot of energy through confined spaces. Our products therefore depend on good conduction technology and excellent insulating materials that are capable of withstanding high temperatures in cables.
What are the limiting factors for a charging cable?
US: They're mainly limited by the vehicle peripherals and the plug type. We have also reached a limit with respect to handling the car charging cable. We use cables with diameters of up to 35 millimetres for Combined Charging System (CCS) plugs which can be used for both direct current and alternating current charging. This means it already has a very high tare weight. A point comes when the charging cable is simply too heavy to handle.
Much of the discussion about e-mobility revolves around ranges and charging times. Are these issues overrated?
JS: I find charging breaks every 1.5 to two hours make driving an electric car much more relaxing. But these breaks are only necessary if I drive more than 300 kilometres. For shorter distances I try to top up at my destination. At this point I must mention that there are usually only AC chargers at the end of my journey which supply too little power. These AC chargers with 11 KW or less are remnants from the very early days of electric mobility and are incapable of charging a car in just one or two hours.
US: At HELUKABEL we still notice a very high demand for cables for AC chargers.
Why's that?
JS: It's because these AC charging points are easy to build and, in principle, the power supply wires for them have already been laid everywhere. Competition under the motto of "who's got the most charging stations?" is fierce among the municipalities. But this doesn't help customers. It would make a lot more sense to build more fast-charging stations.
US: Another possibility is to provide charging infrastructure based on battery swapping. You make an appointment at your destination and swap the empty battery for a full one.
RS: I think this development will first be realised in commercial vehicles or local public transport. Buses might be in their depot at night but if there are, say, a 100 or more of them, it would be impossible to charge them all at once because the power supplied to the depot is simply too little. The bus depot would need its own generating station.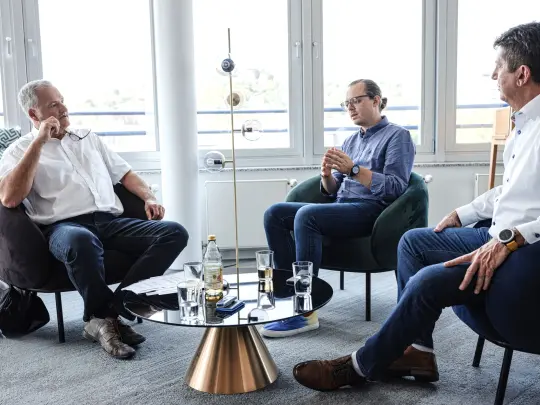 from left: Uwe Schenk, Robert Stanek and Jürgen Schenk discuss today's trends in e-mobility (© Tobias Bugala).
How would you summarise the situation regarding the economic viability of charging infrastructure?
RS: As far as I know, only Tesla is making money so far with its fast-charging network. None of the other charging network operators have a positive business case yet. In other words, they're still in the investment and development phase.
Wireless charging (inductive charging) is a consumer trend for mobile devices, for example. Could it be used for e-mobility?
US: HELUKABEL is currently receiving many enquiries about this. There are interesting applications, such as installations at taxi ranks. This type of charging system will come, particularly where fixed routes are involved. A good example of this are river ferries. They're predestined for this type of charging.
"Germany should become the leading provider and leading market for e-mobility." This was a goal stated by the German government and German industry in 2010. In your opinion, to what extent has this been achieved?
JS: Germany started too late and too slowly. We enjoyed our superiority with combustion engines for too long. But we're gaining momentum now and it won't be long until we've secured the third position in the rankings. It will be very difficult though to regain the first or second position against China and Korea. But the current development plans have put our economy in a "wake-up" mode.
How big will the e-mobility market share be in ten years' time?
RS: We're assuming that by 2030, fully electric cars will account for around 30 to 40 percent of cars in Germany. I'm doubtful though whether it will be much more than this. At the moment it's hard for me to imagine a charging point in every car park in every town and city in ten years' time. There'll continue to be a mixture of drive solutions, such as hydrogen-fuelled vehicles, for example.
What do you think our mobility will generally look like in ten years' time?
JS: E-mobility – in all its guises – is the future, i.e. for the private car, local public transport or road haulage. Everywhere will be electrified.
US: I'm looking forward to quieter cities because 40 percent more e-mobility means 40 percent less road noise.
RS: For me it's important that developments become more sustainable. There are still many unanswered questions. For example, how efficient are charging car parks? How are batteries recycled? We're assuming that the market volume will be large enough in about five years to make the operation of recycling facilities worthwhile. Until then, we have to deliver tried-and-tested solutions.
Thank you very much for the interview.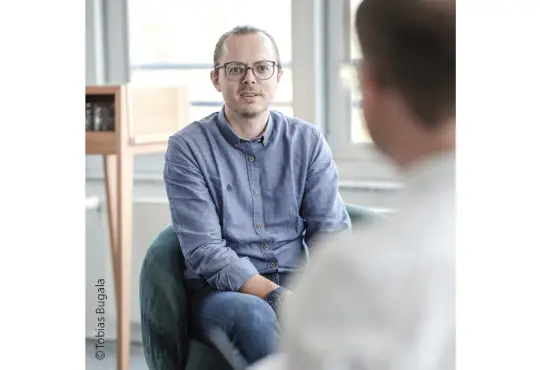 Robert Stanek, Global Advisor E-Mobility and member of the P3 automotive GmbH board, studied business administration and production engineering at the University of Stuttgart. He joined P3 in 2012 as an automotive consultant and has been a partner since 2017. Stanek leads the e-mobility team which focuses on battery systems, electric drives and cost management.
Jürgen Schenk is Senior Consultant E-Mobility at P3 automotive GmbH. The graduate engineer has 40 years of experience in automotive development which includes leading positions in the drive electronics sector and, in the last 15 years, involvement in electric mobility. Among his other previous roles is directorship of e-drive system integration at Daimler AG.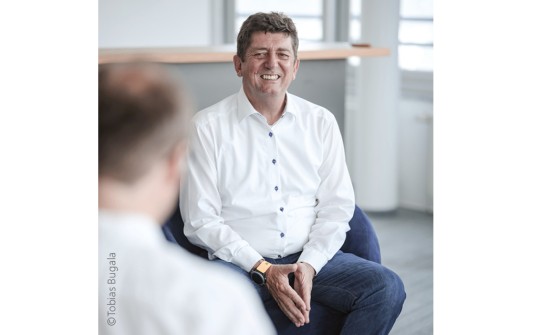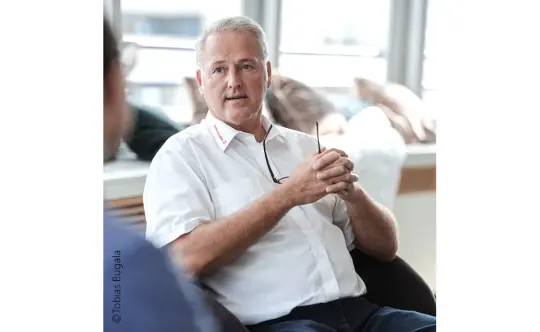 Uwe Schenk, Global Segment Manager E-Mobility & Renewable Energy at HELUKABEL GmbH, is a qualified radio and television technician. He's been working at HELUKABEL since 1998. In 2006 he became global segment manager for wind energy and in 2017 for renewable energies and electric mobility. HELUKABEL is a solution provider for e-mobility and infrastructure projects, and supplies the right cables for a wide range of applications, from power generators to power consumers, including cars, buses, lorries, industrial trucks, maritime applications and airport service vehicles.
About P3 Group:

P3 is an independent and international consulting company that offers consulting, engineering and software development services. P3 has over 1,000 employees in 17 international locations. It has been active in the field of electric mobility for over 15 years.
Trở lại bảng tin