Keep It Clean!
At its factory near Dortmund, Dr. Gansow Gmatic AG produces high-quality floor cleaning machines that are extremely durable and compact, thanks in part to products from HELUKABEL.

Gleaming surfaces, elegant styling and high-quality haptics: the first time people use Dr. Gansow Gmatic AG cleaning machines, they are reminded more of cars than cleaning equipment. This is no coincidence, confirms Heiko Müller who is responsible for the company's marketing: "We try to give our machines an emotionality that may at first appear rather unusual for this type of product. However, our customers in the food industry know stainless steel very well, appreciate its advantages, and are prepared to pay a reasonable price for its quality."
FROM ACIDIC TO ALKALINE
Dr. Gansow Gmatic AG has thus created a niche for special, high-grade machines. A major benefit of the products is their suitability for a wide range of cleaning agents with pH values from 1 to 14 thanks to their stainless steel design. The company makes the stainless steel even more durable and robust by transforming its surface into hard-wearing chromium oxide by means of galvanisation. This process removes even the smallest irregularities from the surface and thus helps prevent the accumulation of dirt and bacteria. "The use of processed stainless steel sets us apart from our competitors," explains Moritz Gansow, who is in charge of technical purchasing at Dr. Gansow Gmatic AG. "Other companies focus primarily on plastic, which just can't cope with certain cleaning agents."
The use of strong cleaning agents also places stringent demands on the cables installed by the company in its machines – a challenge willingly accepted by Thomas Thomae, HELUKABEL's northern sales manager. "The cables are in the immediate vicinity of the actual cleaning," he explains. "It is therefore essential that they are resistant to both alkaline and acidic cleaning agents, as well as very hot water. HELUKABEL silicone cables meet all these requirements." Dr. Gansow Gmatic AG uses these to connect the brush motors of the cleaning machines.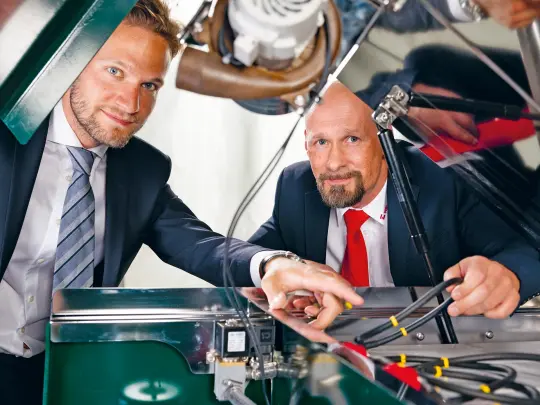 HELUKABEL silicone cables are even resistant to all alkaline and acidic cleaning agents. Purchasing Manager Moritz Gansow (left) and HELUKABEL Regional Sales Manager Thomas Thomae are pleased about this. (©Carsten Behler)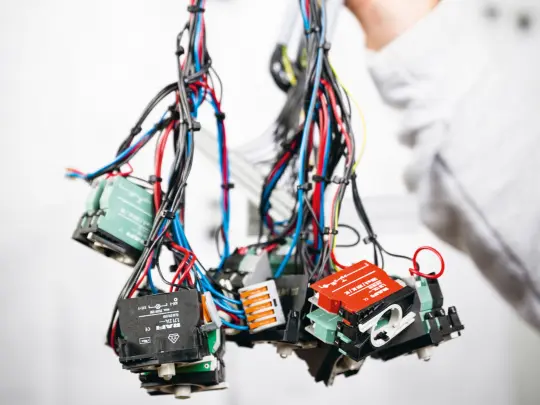 For the battery cable, Dr. Gansow Gmatic AG uses HELUKABEL H01N2-D welding cables and transmits the control signals in the cleaning machines with HELUKABEL-JZ-500 control cables. (©Carsten Behler)
LONG-LASTING AND COMPACT
Dr. Gansow Gmatic AG also takes a unique approach to battery technology compared to its major competitors. Instead of the deep-cycle batteries commonly used in the industry, the company focuses on NexSys® batteries. These batteries distinguish themselves through fast charging and a high degree of efficiency, up to 95 percent, which means they generate very little heat. Like mobile phone batteries, they can be charged even when relatively full without shortening their service life. In addition, NexSys® batteries are relatively narrow and 30 percent more compact than comparable deep-cycle batteries. "This makes our machines even more compact and slimmer than our competitors. The machines are easier to steer and the operator has a better view of the brushes because they protrude laterally and symmetrically beyond the chassis," explains Heiko Müller.
The compact housing is achieved by imposing corresponding requirements on the cables and wires installed. The cables connecting the battery to the control unit must be very flexible and allow tight bending radii to ensure they fit into the limited space. For the battery cable, Dr. Gansow Gmatic AG uses HELUKABEL H01N2-D welding cables, which is particularly flexible thanks to its ultra-fine wire stranding and neoprene outer sheath. The control signals in the cleaning machines are transmitted via HELUKABEL JZ-500 control cables. "It's great to support such an innovative customer as Dr. Gansow Gmatic AG with several of our products," reports Thomas Thomae. "I'm confident we have a successful partnership ahead of us."
FOCUS ON QUALITY
For Moritz Gansow, the Hemmingen/Stuttgart-based cable supplier is the right partner for his factory: "Our main reasons for changing to HELUKABEL are the absolutely professional appearance, availability of products at short notice, competitive prices, and flawless quality. The last point is particularly important to us to set us apart from the competition." In line with this philosophy, Dr. Gansow Gmatic AG's cleaning machines are almost completely manufactured by hand. From welding through assembly and cabling to final testing, the 16 employees at the company personally carry out these tasks and tick off each completed step. A positive side effect: the manual process strengthens employees' identification with the product.
It's also easy for the company to implement modifications. "We recently had a customer who wanted to use his machine at several locations and hence needed retaining rings fitted on the chassis to secure the machine during transportation," cites Heiko Müller as an example. The designers put forward a proposal for this requirement, discussed it directly with colleagues in assembly, and were able to quickly provide the customer with a solution.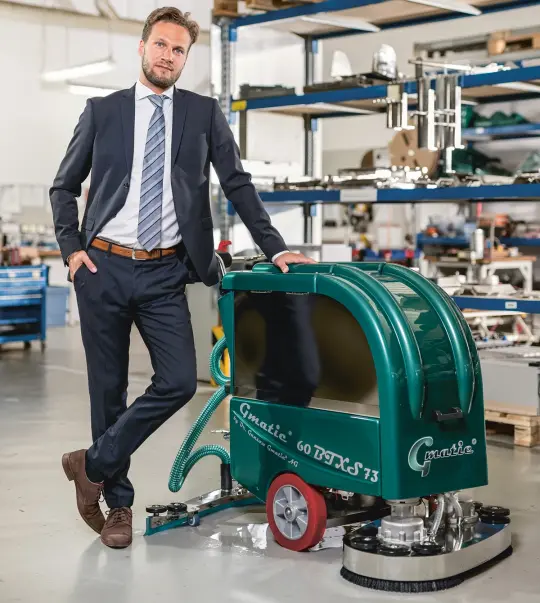 IDEAS FOR THE FUTURE
Despite full focus being on skilled workmanship and high quality, Dr. Gansow Gmatic AG does not lose sight of the future. The company is currently developing a telemetric-module within a leasing concept for its machines. "Renting is a general trend in cleaning machines," explains Heiko Müller. "And our durable machines are perfect for this, of course."
IMMACULATE CLEANERS
Who: Dr. Gansow Gmatic AG, Bergkamen, near Dortmund, approximately 16 employees.
What: Manufacturer of high-quality scrubber dryers and electric tow tractors. The company focuses on production by hand to ensure customers' individual wishes are readily implemented to a high standard.
Trở lại bảng tin